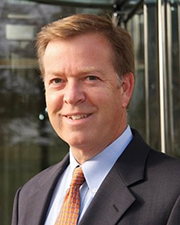 Rocky Hill, CT Reese Commercial has completed the sale of 945 Cromwell Ave. This 35,000 s/f retail plaza, known as Cold Spring Plaza, was constructed in the late 1970's by Daniel Saunders. The property is 100% leased and sold for $4.1 million. It has been in the Saunders family for 40 years and this is the first time it has been brought to market.
Dale Reese, CCIM, managing broker and Greg Saunders, investment sales, of Reese Commercial represented Cold Spring Plaza LLC, the seller. The buyer was Maksud and Saeeda Shaikh.
"Since 2013, Reese Commercial has helped to lease the plaza and achieved 100% occupancy in 2018. The family received an unsolicited offer in 2018 and Dale convinced us to market the property in the form of a competitive bid process. This process yielded a much stronger price as compared to the original offer. The family is very pleased with the result and our parents would be proud of us", said Christine Connolly, manager of Cold Spring Plaza LLC.
The plaza, located 945 Cromwell Ave., 1 mile south of I-91 at Exit 23, is a neighborhood retail center serving the general public and area residents. The tenant roster includes anchor tenant Ace Hardware, Century Cleaners, Century Package Store, Salon Cheveux, Rhythm & Dance, Express Your Pet, Pella Dolce Aesthetics, Bella Nail Salon and Oasis of Life Church Group and restaurants Brizo, Puket Café and West Side Pizza.