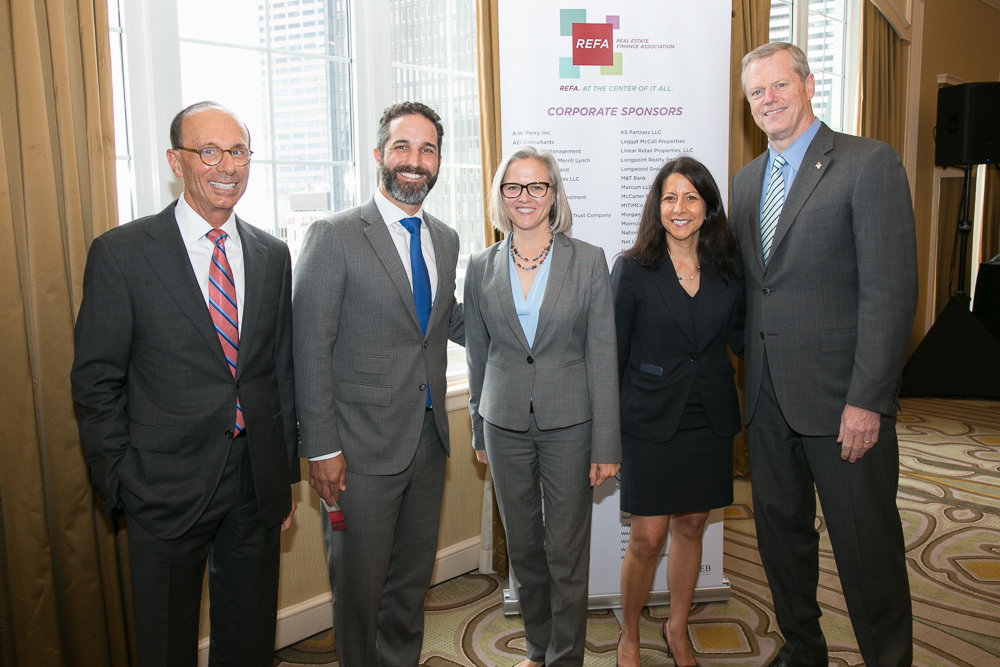 Boston, MA On Thursday, May 30th, REFA Emerging Leaders participated in a behind the scenes tour of the Hub on Causeway Phase 2. Melissa Schrock, senior project manager, development at Boston Properties led the tour and provided attendees with updated on some of the newest retail, amenities and cutting-edge technologies. Immediately after the tour, REFA held the Spring After Hours at the Causeway. REFA's After Hours networking socials bring together industry members and colleagues for a night of food, drinks and mingling.
On Thursday, June 6th, REFA held a special invitation-only luncheon with governor Charlie Baker at the Omni Parker House. The event was designed to recognize REFA's Corporate Sponsor members for their continued support and participation throughout the year. The governor discussed his priorities around climate change, housing and transportation.
On June 12th, REFA hosted a panel discussion on "Financing the Changing Office Landscape." Paul Nasser, CFO and COO, Intercontinental Real Estate Corp. led the discussion with panelists: Kristin Blount, EVP, Colliers International; Jonathan Davis, founder and CEO, The Davis Cos. and Peg Mulcahy, SVP, Bank of America Merrill Lynch. The panel discussed financing in today's office environment from a broker, owner and lender perspective
On Monday, July 22nd REFA members and guests will be participating in REFA's Annual Charitable Golf & Tennis Tournament, taking place at Dedham Country & Polo Club. This year's tournament beneficiaries are Rosie's Place and FamilyAid Boston, two organizations within Boston whose missions are to help fight homelessness. More information regarding the Tournament can be found on REFA's homepage.
REFA is delighted to be honoring Jonathan Davis, founder and CEO of The Davis Cos. at the Annual REFA Gala. As the 31st recipient of the Swain Award, Davis joins a list of award honorees, all of whom have made contributions to the greater Boston community, both through their professional career and charitable work. This year's REFA Gala will be held on Thursday, October 17th from 5:30 – 9 p.m. at the Westin Copley Place.
The REFA Gala is the largest gathering of REFA and brings together over 500 members of the real estate finance community to network with colleagues, reflect on the year, as well as recognize their peer(s) with the Swain Award, named in honor of the late Robert S. Swain, Jr.