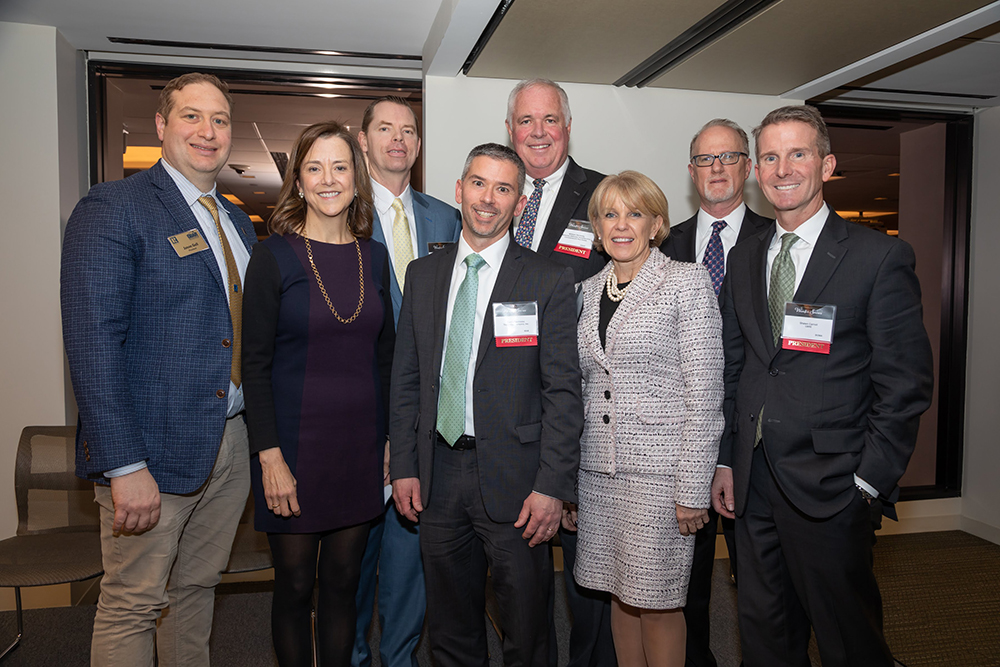 Boston, MA REFA kicked off 2020 by hosting its Annual Forecasting Breakfast on January 28th at WilmerHale. This year's lineup boasted a number of industry professionals, beginning with keynote speaker David Darst, CFA. Darst, chief investment officer, Americana Partners, and senior investment strategist, The Family Office, gave a lively and passionate presentation to open the event. Following the keynote, Lauren O'Neil, JLL, moderated a panel discussion featuring Shawn Hurley, Marcus Partners, Brian Kavoogian, National Development, Tom O'Brien, The HYM Investment Group, and Melissa Schrock, Boston Properties. The panel led an insightful discussion on their individual outlooks and predictions for the upcoming year and how the changing times pertain to the real estate industry.
On January 30th, the Greater Boston Real Estate Board (GBREB) held its Annual Winter Soiree featuring the installation of 2020 Division Presidents and GBREB officers at WilmerHale. 50 REFA members were in attendance to watch as Claudia Piper, Webster Bank, was sworn in as the 2020 REFA president. REFA is looking forward to another exceptional year under her leadership. REFA board member Andrew Rosen, Bank of America Merrill Lynch, was also sworn in as the GBREB treasurer.
REFA is looking forward to its next event, The Impact of the LIBOR Changes, which will take place on February 25th at 290 Congress St., Atlantic Wharf. The program will be moderated by Mandy Eckhoff, Robinson + Cole LLP, and speakers will include Christopher Dias, KPMG, Peter Martin, GID, and Elaine Philbrick, Derivative Advisors. The panel will discuss the status of the LIBOR phase-out and what it means for lending, reporting, and the CRE Industry as a whole.
As part of REFA's diversity and inclusion initiative, REFA is hosting an event featuring Laura Liswood, author of "The Loudest Duck: Moving Beyond Diversity." The special program, which will take place on March 3rd at 100 High St., will cover: Why we aspire to diversity; What are the myriad of deep diversities found in the workplace; Where we get our unconscious beliefs/biases about others; and How operating unconsciously in a diverse workforce creates an uneven playing field. REFA's members are excited to engage in this vital conversation.
To learn more about REFA, please visit www.REFA.org and follow REFA on Twitter @REFABoston.