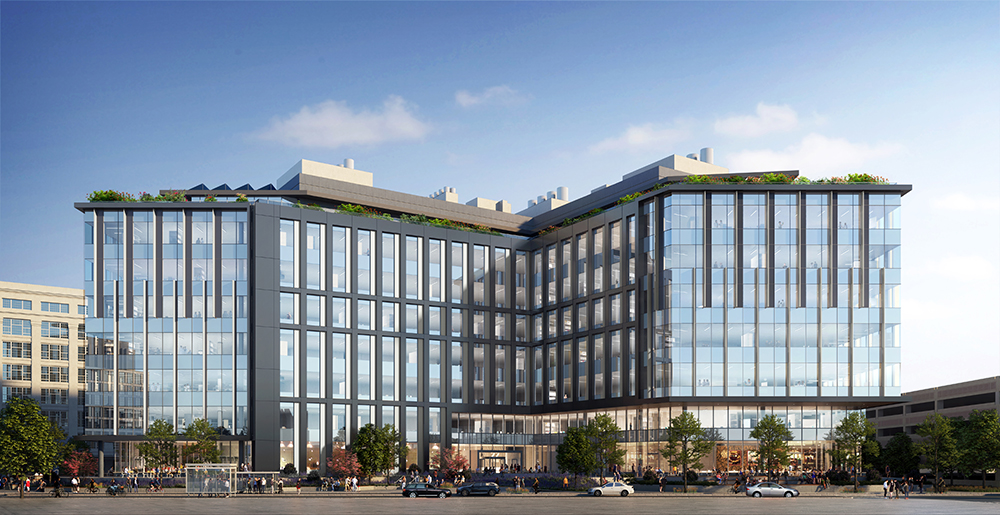 Boston, MA According to Related Beal, global biotechnology company Vertex Pharmaceuticals will fully occupy their planned iSQ3 development of 22 Drydock Ave. in the Raymond L. Flynn Marine Park (RLFMP). The companies made the announcement at Vertex's dedication of the Jeffrey Leiden Center for Cell and Genetic Therapies I (Leiden I), also developed by Related Beal as part of its Innovation Square Campus, located across the street.
A partnership that includes Related Beal, Boston Real Estate Inclusion Fund (BREIF) and Kavanagh Advisory Group was selected to develop 22 Drydock Ave. by the Economic Development and Industrial Corp. (EDIC) in April.
"Vertex was the first major life science company to locate in the Seaport. Their success and growth has been a major catalyst in the creation of what has become Boston's global life science hub. We are thrilled to expand Related Beal's partnership with Vertex in the incredibly dynamic Raymond L. Flynn Marine Park," said Stephen Faber, executive vice president at Related Beal.
"At iSQ3 our teams will create a highly sustainable life science campus that will bring hundreds of jobs to the Seaport District, prioritize diversity, equity and inclusion and deliver numerous community benefits. We are proud to have Vertex as our partner at this incredibly meaningful development," said Richard Taylor, principal of BREIF.
"This expansion is a sign of our deep commitment to Boston and the larger Massachusetts innovation ecosystem," said Jeffrey Leiden, M.D., Ph.D., executive chairman at Vertex. "These buildings represent so much more than having the best equipment in our labs or great amenities, as important as those things are. These buildings represent a further significant investment in our unique R&D strategy, to transform the lives of people with serious diseases, like sickle cell disease and type 1 diabetes, using cutting-edge genetic and cell-based therapies."
The new facility at iSQ3 will be named the Jeffrey Leiden Center for Cell and Genetic Therapies II (Leiden II) and, together with Leiden I, will be known as the Leiden Campus. Leiden II will be a 344,000 s/f, seven story research and development facility, complete with onsite training facilities and amenities including a café, fitness center, roof deck, conference and event space, and outdoor public seating. Substantial public benefits from the project will support STEM education, technical job training in the life sciences and employment opportunities for local residents. The project features a fully built out teaching laboratory where residents will earn certificates as lab technicians and bio-manufacturing specialists providing access to careers in the city's growing life science economy.
Additional public benefits will support the fishing industry, which is an important economic partner and neighbor on the South Boston waterfront.
Leiden II will begin its public review process in the next 60 days.
Vertex Pharmaceuticals currently occupies Leiden I, which is one of the first new construction, multi-tenant lab building in the RLFMP. Located along Northern Avenue, the building is a 269,000 s/f state of the art research and development facility designed to meet today's flexible research and development requirements, including robust infrastructure and business amenities.