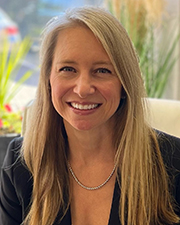 Plymouth, MA According to construction management firm ReyCon, Amy Boehmcke and Kevin Byrne have joined the company as project manager and assistant project manager, respectively.
Boehmcke brings 15 years of extensive construction management experience to ReyCon, most recently at Stoneleaf Construction and Lend Lease. She holds a BS in Civil Engineering from University at Buffalo and a MS in Civil Engineering from Cal-Berkley. Boehmcke will be responsible for managing the day-to-day operations of many of ReyCon's upcoming high-profile projects.
Byrne has several years of commercial construction experience working with both general contractors and subcontractors. He holds a BA from the University of Massachusetts and played four years of football for the Minutemen.
"Strategic growth of our project management team has been a key priority for ReyCon, and we're very excited to have Amy and Kevin come onboard," said ReyCon president Michael Reynolds. "They each have project management experience across numerous sectors and a reputation for delivering high value service to clients - with a positive, team-oriented attitude."