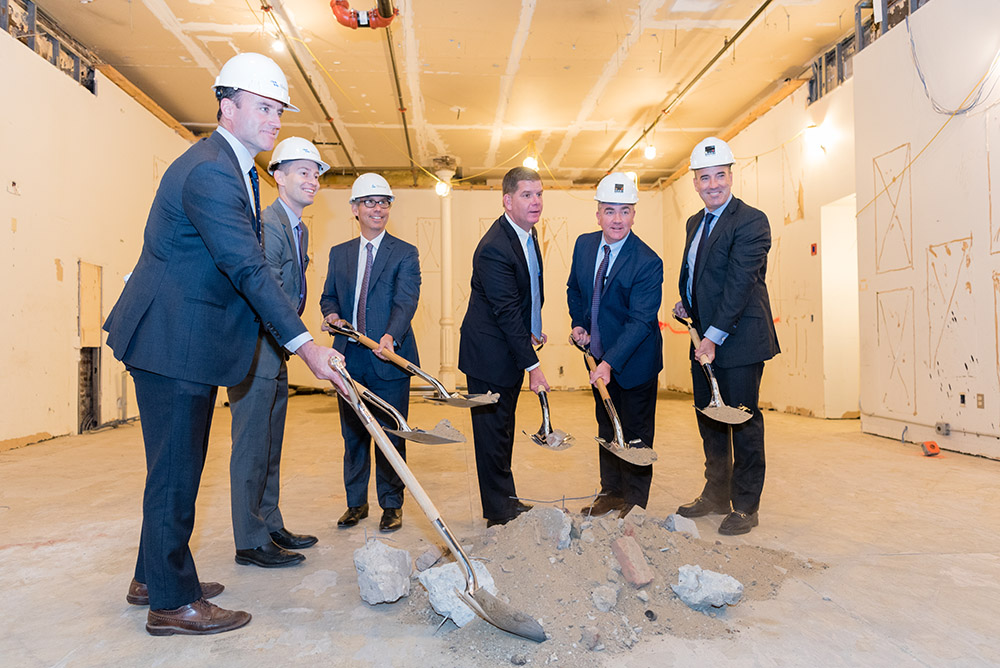 Boston, MA Shawmut Design and Construction, along with Midwood Investment & Development, Gensler, and mayor Martin Walsh broke ground on a repositioning project at One Milk St.
"Shawmut is honored to contribute to Boston's thriving Downtown Crossing neighborhood with the renovation and repositioning of One Milk Street," said Les Hiscoe, CEO of Shawmut. "Our team excels at the challenge of preserving iconic and historic buildings, while incorporating modern elements that today's businesses require."
Shawmut, Midwood and architecture firm Gensler collaborated closely to develop the plan and design for the project. Located on the corner of Washington and Milk Sts., the mixed-use repositioning will include a renovation of the existing Transcript & Franklin Buildings, which were previously connected via an infill building. The 45,000 s/f development currently hosts retail and office space.
"The recent resurgence surrounding Downtown Crossing makes One Milk St. an ideal location for business and recreation to intersect," said Kevin Sullivan, vice president at Shawmut. "We're eager to apply our experience working with historic structures to a development that's sure to transform the neighborhood."
The completed structure will preserve the existing historic architecture and will feature storefronts along Washington Street, a new modern lobby, and upgraded office space. The project will also include upgrades such as new elevators, air handling units, electrical systems, and roof.
Shawmut Design and Construction is a $1.3 billion national construction management firm with a reputation for completing extremely complex and logistically challenging projects for the most high-profile clients in the industry. As an ESOP (employee-owned) company, Shawmut has created a culture of ownership, proactive solution-making, and forward thinking. Eighty percent of its business comes from repeat clients, proving there is a strong focus on building lasting partnerships. Shawmut's unique business model allows project teams to better service clients by focusing their specialized expertise within one of the following areas: Academic, Tenant Interiors, Cultural & Historic, Healthcare & Life Sciences, Hotel, Restaurant, Retail, and Sports Venues. Shawmut has offices located in Boston, New York, Providence, New Haven, West Springfield, Las Vegas, Miami, and Los Angeles.