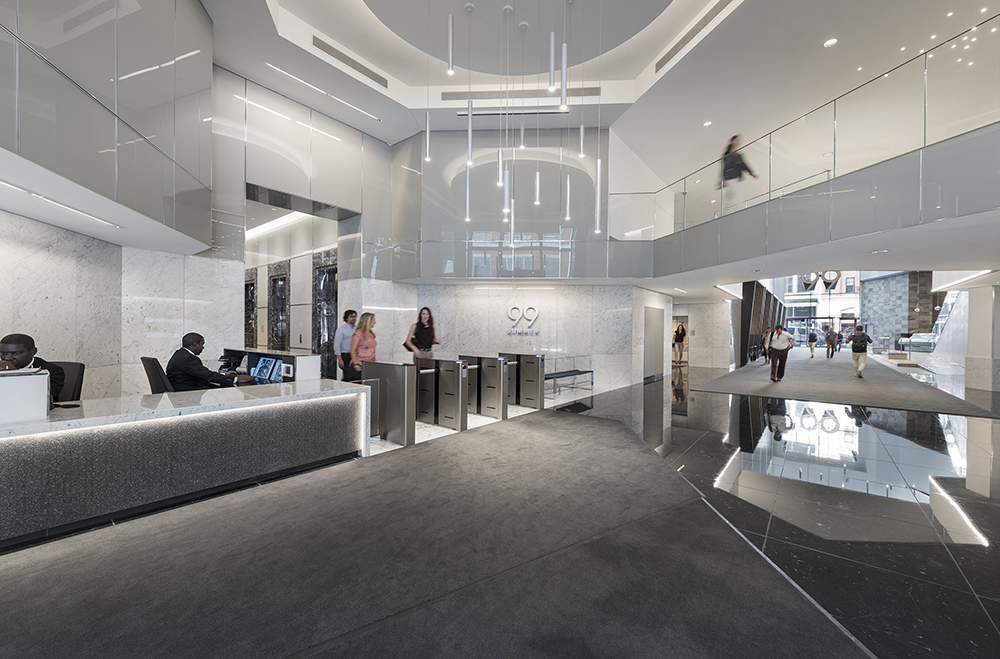 Boston, MA Shawmut Design and Construction completed a two-phased lobby renovation at 99 Summer St. Located in the Financial District, the 20-story, Class A office building is one of the most recognizable office towers in the city.
Shawmut, along with CBT Architects, Rockpoint Group, and Rockhill Management, renovated the once narrow, alley-like entrance to become a modern urban environment defined by light, art, and high design. The design team was inspired by parks and outdoor urban environments when conceiving the lobby layout.
"It was an honor for our team to collaborate on transforming such a well-known Boston structure," said Kevin Sullivan, vice president at Shawmut. "Our team was excited by the opportunity to seamlessly apply such nuanced, inspired design to welcome guests to an all-new 99 Summer St."
The two-phased renovation includes a new Pilkington curtain wall at the Summer St. entrance, back painted glass throughout the exterior and interior, stone flooring, a new security desk, and glass turnstiles. The lobby includes new banquettes for small group meetings, new pendant lighting with energy efficient LEDs, and a custom-built "Grab-N-Go" café. Additionally, the team replaced the traditional stairway with all-new stadium seating to highlight the newly renovated mezzanine level's amenities, including a new game room and pre-function conference center.
99 Summer St. represents the latest in a series of corporate renovation projects for Shawmut, including recently completed work at 116 Huntington and 75-101 Federal St., and current projects at Cambridge Crossing and One Milk St.