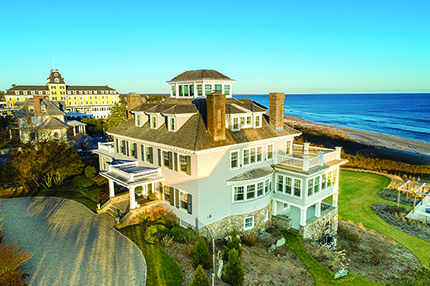 Watch Hill, RI Mott & Chace Sotheby's International Realty negotiated the record-breaking oceanfront sale of 10 Bluff Ave. for $17.6 million. The 1903 home has been recently renovated by award winning designer Giancarlo Valle. The buyer was represented by Donna Simmons, sales associate of Mott & Chace. The seller was represented by Lori Joyal of Lila Delman Real Estate.
The sale of 10 Bluff Ave. represents the highest recorded single-family property sale ever in Watch Hill, according to data available from the Rhode Island Multiple Listing Service. This is also the highest ever recorded single-family sale statewide. Simmons has sold over $30 million in real estate to date in the Westerly and Watch Hill marketplace.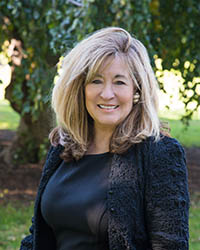 In 2013, Taylor Swift privately purchased the home just a few doors away for $17.75 million according to Business Insider. 10 Bluff Ave. is the highest known sale in Watch Hill since then. The 10,000 s/f residence is situated on 3 acres overlooking the Atlantic Ocean.
Including 160 feet of beach frontage, the landmark home features nine bedrooms and eight- and one-half bathrooms on three levels of living space. The home debuted on the Westerly landscape in the early 1900s known as "Seaesta".
The summer colony of Watch Hill dates back to the mid 1800s with nine original grand hotels. As families from landlocked United States traveled by rail to the East Coast to escape the sultry summers, they disembarked in Stonington and took steamships to Watch Hill for true summer enjoyment. Soon, many decided to build their own rambling, shingled, summer 'cottages'. "Seaesta" is a sterling example of these homes.
"This was a once in a generation listing because of the location in the village of Watch Hill, astounding ocean views, the white sand beach and the large parcel of land, which is over an acre," said Simmons. "I am thrilled for my clients who have decided to make Watch Hill their summer and weekend home!"
"We have an extremely strong presence in the Rhode Island luxury market," said Judy Chace, broker/co-owner of Mott & Chace Sotheby's International Realty. "This year we have participated in three of the top five sales in the state and represented half of those clients, while leading the state in residential sales over $3 million. Our company and our leadership in the luxury market continues to grow at a steady rate and we are looking forward to what we can accomplish next."
"Watch Hill is a unique piece of Rhode Island history and our agents are an authority on this special community," said Ray Mott, broker/co-owner of Mott & Chace Sotheby's International Realty. "We are impressed by the tireless efforts of our associates in the Watch Hill office."