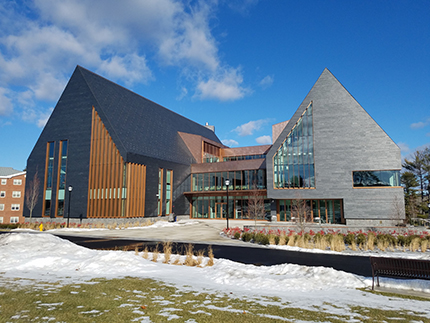 Manchester, NH Southern New Hampshire University (SNHU) celebrated the opening of its new College of Engineering, Technology and Aeronautics (CETA) facility with a ribbon cutting ceremony. The new 67,000 s/f academic building now houses SNHU's on-campus CETA programs and will help prepare students for in-demand STEM careers.
"All of us at CETA are thrilled to have this magnificent new space in which to teach, and discover," said Kirk Kolenbrander, executive vice president of CETA, SNHU. "We are delighted to put this space to work – hard work – as we contribute to SNHU's mission to transform lives."
The three-story facility features a myriad of amenities and workspaces, including flexible teaching labs, a drone flying arena, an unmanned aerial vehicle prep space, a woodshop, a robotics lab, a wind tunnel, a 3D printing lab, virtual reality equipment, and program-specific laboratories. It also features CDIO (Conceive, Design, Implement and Operate) hubs where students can work on projects from conception through operation, turning them into real-world solutions and products.
The University broke ground on the new CETA facility in 2018 with the help of Wilson-HGA, a Boston-based architectural firm, and Skanska, a global construction and development firm. Construction was completed within a year and a half.
"Education lays the foundation for opportunity and with the delivery of SNHU's new College of Engineering, Technology and Aeronautics building, we are helping to provide space for the next generation to learn about STEM, cornerstones of careers in construction," said Bryan Northrop, executive vice president of building operations for Skanska in Boston. "STEM-educated professionals are in high-demand, and we embrace the opportunity to provide a creative space that educates the next generation of innovators."
"Understanding SNHU's goal to find the best ways to prepare learners for the future pushed us, as designers, to look at the effect that space can have on students and pedagogies," said Chris Martin, vice president, Wilson-HGA. "That thinking, coupled with the goal to have a campus statement that highlighted the importance of these disciplines on campus drove the design. The building is the result of a true collaboration between SNHU and the design/construction team, and is a testament to SNHU's commitment to push their STEM disciplines to the forefront in the educational landscape."
SNHU's College of Engineering, Technology and Aeronautics was established in 2017 after the sudden closure of Daniel Webster College to expand access to affordable and accessible engineering degree programs in the New England region. While CETA has existed since the teach-out of all DWC programs, this new facility – located in the heart of the SNHU campus – will be the official home of the University's expanded STEM programs.
Prior to the opening, CETA operated out of a 20,000 s/f annex adjacent to SNHU's Manchester campus. CETA now serves more than 330 undergraduate students on campus and offers nine degree programs, including: Aeronautical engineering, aviation management, aviation operations and management, computer science, air traffic management, construction management, electrical and computer engineering, mechanical engineering and information technologies.