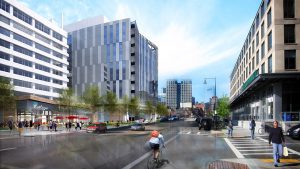 Harrison Avenue corridor, looking north - Boston, MA
Boston, MA SMMA received design approval from the Boston Planning & Development Agency (BPDA)  for its 321 Harrison Ave. project in the city's South End neighborhood. Jointly funded by Nordblom Company and Rubenstein Partners LP, with CBRE/New England providing real estate services, 321 Harrison Ave. will comprise eight stories of class A office space atop an existing three-level parking structure.
In September, members of Boston's Civic Design Commission unanimously endorsed the project, clearing the path for BPDA approval. SMMA spent the better part of the spring and summer presenting to both bodies, as well as to the broader South End community, to garner the requisite support to advance the design from concept to reality.
The project will encompass 230,000 s/f, injecting a significant corporate and commercial component into an area of the city undergoing a revitalization that has, to date, been primarily driven by residential and retail development. The new building is sited adjacent to 1000 Washington St., an existing 11-story facility also jointly owned by Nordblom and Rubenstein, and across from the Ink Block residences and Whole Foods Market.
SMMA conceptualized 321 Harrison Ave. to activate the street level as much as possible, creating a walkable urban experience that extends into the surrounding neighborhood. The length of Harrison Ave. will be redesigned as a much-needed linear park, and will include a wide public sidewalk, bike lanes, and semicircular raised lawn, as well as a variety of outdoor seating options. A new 2,500 s/f retail component will create a backdrop to this new public space.
The project is in close proximity to a variety of transportation options, with access to major highways (the Mass. Pike, I-93) and public transit stations, as well as Logan Airport.