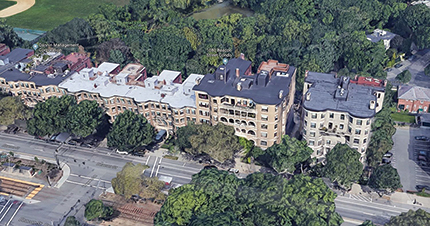 Brookline, MA South Coast Improvement Co. was awarded a $5.25 million project to renovate 1080 Beacon St. South Coast Improvement was contracted by Traggorth Companies, the project management company for this historic property.
The core renovation will address a faltering foundation on the 90-plus year old building. The current foundation will be reinforced with a new piling system. This will require the gutting of the entire ground floor units. Once the piling system is installed, the project will upgrade parts of the façade and entrance way and rebuild the ground floor units.
As part of the project, South Coast Improvement will coordinate with Traggorth Cos.' on-site program manager and the tenants' association at 1080 Beacon St., as well as the city of Brookline. The project will also require coordination with neighboring buildings on both sides of 1080 Beacon to facilitate a safe area for residents to walk during construction.
"One of the trademarks of our company has been process and minimizing the impact of construction on residents. This process has been tested time and again with our work at assisted living facilities and rehabilitation centers. We look forward to putting those skills to work with a project the size and scope of this renovation at the historic 1080 Beacon St. property," said Tom Quinlan, president of South Coast Improvement Co. "We're looking forward to working with Traggorth Companies on this project and for a very successful project from beginning to end."
Construction began in July and has a completion date set for summer 2019.
The architect for the project will be Forte Architecture and Design. McPhail Associates will handle the geotechnical engineering. DM Berg Consultants will be the structural engineer.