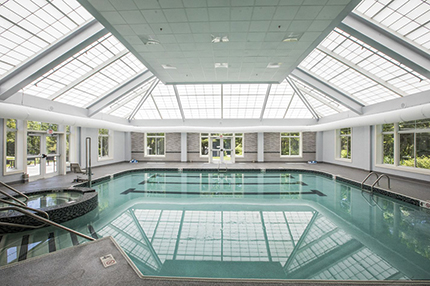 West Yarmouth, MA South Coast Improvement Company (SCI), finished a pool renovation at Maplewood at Mayflower Place, an assisted living facility located at 579 Buck Island Rd. SCI began construction in December 2017 and finished in April 2018.
The $725,000 project featured a total renovation of the pool, locker room and spa area of the pool facility. That included replacement of the pool roof to a new system to provide optimal natural light. The pool received new tiles to offer better traction and safety for users. The adjacent hot tub received new tiles and jet stream system.
The locker room portion of the project included new fixtures, cabinets, tiles and other amenities. A new door system was installed in the vestibule entrance to the pool and spa. The entire pool, spa and locker room received an upgrade to the HVAC system to a fabric duct system for improved aesthetics and efficiency.
"Fitness areas are an extremely important part of the assisted living experience. You want residents to be active on one hand, but, you understand the greater need for safe conditions to do so," said Tom Quinlan, president of SCI. "With this renovation, residents and staff at Maplewood at Mayflower Place have a first-class facility to help seniors get further enjoyment and benefit."
The architect was DMS Design LLC and the engineering firm was Coastal Engineering.