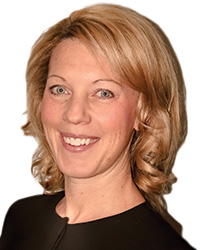 Jennifer Constable
Assistant Town Administrator
Town of Rockland, Mass.
What should developers know about the process when working with your community? Rockland recognizes the benefits to being business friendly and strives to be efficient and seamless during the process. Whether starting a new business or developing commercial or residential sites, town staff, boards and committees are available, ready and willing to assist. Rockland continually seeks additional ways to improve and streamline its services.
Are there any areas within your communities that you are looking to draw investment? With a commitment to revitalization of its downtown, in 2017, the town adopted a 40R Smart Growth Overlay District followed by development and adoption of a focused Downtown Action Strategy. Development opportunities currently exist within the district and would be both complimented and supported by the ongoing investment and development in and around the downtown area. Situated off Rte. 3 and neighbored by prospering communities, makes this an opportune time to invest in Rockland.
Why should developers look to your town? Rockland is a community rich with opportunity and, even more notable, is committed to supporting existing and future investment. Recognizing the ongoing significant investment in the region, Rockland is an active regional partner in economic development efforts on the South Shore. Rockland welcomes housing, commercial and cultural development to the community!