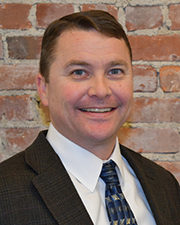 Rob Stevens
Deputy Planning Director
City of Quincy, Mass.
What should developers know about the process when working with your community? The city of Quincy prides itself on striking a balance between focusing new development in places that are appropriate while protecting the fabric of its neighborhoods. Engaging with the appropriate elected officials and the neighbors before submitting a development proposal for approval helps achieve that balance.
Are there any areas within your communities that you are looking to draw investment? Unlocking new investment in the city's three business districts is a top priority and is key to enhancing the city's vibrancy. After approving over 4,000 new housing units in the last five years, the city would also like to see an increase in commercial development.
Why should developers look to your town? Quincy's economy is strong, the culture is diverse, and the quality of life is spectacular. This is in large part due to the fact that Quincy has four MBTA stations and boasts 27 miles of coastline. Building on those assets coupled with recent public investment in new schools, updating existing parks and overhauling the city's infrastructure is fueling the Quincy of tomorrow.