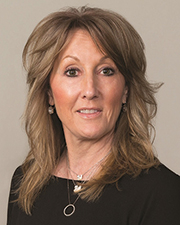 Newton, MA According to STV|DPM, Krissy Anderson has been promoted to senior project planner.
As an 11-year veteran of STV|DPM, Anderson possesses more than 24 years of in-depth expertise in the fields of facilities planning, construction management, preventative maintenance, relocation management, FF&E and space planning in the academic, life science and healthcare industry segments. During her tenure at STV|DPM, her clients have included Vertex Pharmaceuticals, Sanofi, Northeastern University, and Harvard Business School.
Anderson is currently providing project management leadership on a complex, large scale phased renovation/restack of Blue Cross Blue Shield's 359,000 s/f campus in Hingham. She is serving as the project lead on the client team and is responsible for all aspects of move management.
Anderson coordinates daily with the construction team, external vendors and all client stakeholders to see that each phase area is cleared, cleaned, and decommissioned to make way for construction to start and that each area is repopulated once all construction phases are completed. This work includes compliance with the construction schedule, ongoing client operations and COVID-19 protocols.
"Krissy's promotion to senior project planner is well deserved as she continually demonstrates strong leadership and judgment," said Denise Pied, STV|DPM vice president and project executive. "She has earned respect and high praise from her client teams for her superior communication skills and ability to handle complex project challenges with a calm and professional demeanor. Her dedication to project success is invaluable to us as a firm and especially to our client during the height of the COVID crisis."