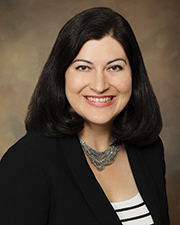 Boston, MA Tetra Tech has hired Katie Moniz, PE, AICP, CFM, LEED AP BD+C as a senior project manager. She will join Tetra Tech's Fort Point Associates (FPA) office, where she will work with president Jamie Fay, AICP and the FPA team.
Moniz has 15 years of experience in civil and site land development focused on permitting and constructing commercial office, retail development and multi-family residential projects in the Greater Boston area.
She specializes in performing critical infrastructure vulnerability analyses and developing adaptive site designs to improve project site resilience to the effects of climate change. Moniz is also a Massachusetts Municipal Vulnerability Preparedness (MVP) certified provider and has worked with cities and towns on their municipal climate resiliency planning and preparedness efforts, including the urban and coastal communities of Beverly, Chelsea, and Everett.