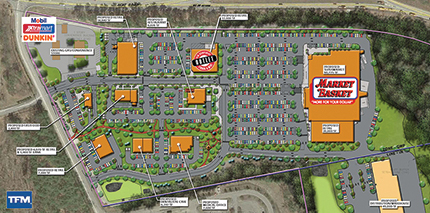 Concord, NH TFMoran engineers are working for developers Interchange Development, LLC to design and permit a proposed multi-phase mixed-use development to be known as Concord Crossing II on Whitney Rd. near I-93 Exit 17. The 43-acre site would be one of the largest recent mixed-use developments in central New Hampshire.
TFMoran's services include master-planning, civil/site engineering, traffic engineering, permitting, and landscape architecture. The project is expected to be heard by the Concord Planning Board this summer.
Phase One of the 200,000 s/f development will include an 80,775 s/f Market Basket store – the third Market Basket in the city – with an attached 22,000 s/f retail space, and a new 12,000 s/f New Hampshire Liquor and Wine Outlet. It also includes the existing Dunkin' Donuts – Mobil/Xtramart gas/convenience store. The project also includes a new two-lane roundabout at Hoit Rd. (Rte. 4) and Whitney Rd.
Phase 2 will consist of seven more pad sites housing retail shops, restaurants, a bank, medical offices, and a wireless communications facility. The third phase introduces a new industrial parcel to accommodate a 45,000-60,000 s/f distribution/warehouse/manufacturing facility. The parcels would all be served by city sewer and water.