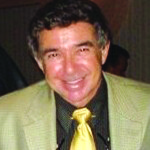 Dennis Serpone, New
England Restaurant Brokers
Let's start off acknowledging that we're entering uncharted waters with a Trump presidency. If he, and Congress can get their act together, eliminate some of Obama's onerous and burdensome regulations on hospitality and small businesses, restructure Obamacare, and reduce capital gains taxes, we'll see an unprecedented time of growth at both the chain level and amongst independent restaurateurs.
There was a time, not too long ago, when dining out was occasion-based. We went to nice restaurants to celebrate an event…we took the family out every Friday night because the workweek was over, we corralled our friends because it was one of their birthdays, but most of the time we ate home. The traditional home had a father who had a job and a mother who took care of the family and cooked three meals a day, every day of the week. Back then, the homemaker taught her daughter the fundamentals of cooking. How times have changed.
Today, thanks to the liberalization of our divorce laws, over 50% of families have only a single parent. That parent typically works a full time job and may not have time, or energy, to teach her children to cook. The path of least resistance is to order dinner in. Today, most full service restaurants have a thriving portion of their business generated from having available, and delivering, prepared dinners to go. Whold Foods Market and Wegmans are hurting established food purveyors...chains and independents.
'Fast casual' restaurants fight for survival. Per Nation's Restaurant News, popular sports bar chain, Tilted Kilt Pub is seeing annual traffic falling 3% per year. Applebee's Neighborhood Grill and Ruby Tuesday have not been sheltered from similar declines. The competition at the chain level is matched by competition from the huge number of independents.
We see that over the increasing recovery of our economy, a significant driving force behind it is the growing population of the 'over 50' generation…an audience that has been somewhat invisible to restaurant operators. Nation's Restaurant News reported recently that "If it wasn't for this group – this group is holding up the industry – we'd be seeing negative traffic. Operators are missing the boat if they're not targeting this group. Further adults, 50 and older, have increased their restaurant visits while the industry continues to suffer from losses in visits made by younger and middle-aged consumers. Adults 50 – 64 made three times more visits that they did in the preceding year. During the same period, adults aged 18 – 34 made 10 fewer per capita visits, and adults 35 – 49 made four fewer visits."
In fact, in the last five years baby boomers have increased their visits to nearly all segments except mid-scale and fast-casual restaurants. The baby boomer of today is not the baby boomer of the last generation. Ours is more active, more physically fit, more financially independent, and travels much more frequently. This generation sees cooking more as a chore than as just a part of life. This is much more evident in that segment of our population that is 'single'. Those never married see restaurant food as staple. Whether being taken to McDonald's as a kid or invited to a friend's birthday party at Chuck E. Cheese's, restaurants were a part of your life just as much as going to school every day. When you got married and had children, taking the family to those same places was as natural as putting gas in your car. It was just a part of your daily routine. When you got divorced you joined the ranks of the millions of people disconnected from that group mentality. When you got older and lost a spouse, you moved into another huge category of single people. With half of the population outside of the family unit, restaurant dining has become a way of life.
Today the over 50 crowd is everywhere. They're at Panera meeting someone they met on an online dating service, they're at a quaint Italian restaurant in the North End, they're having a casual business meeting at a 99 Restaurant & Pub, they're grabbing a hamburger at McDonald's while at the mall shopping, they're at the 19th hole after a round of golf, and they're at Starbucks for their afternoon 'jolt' of energy. You get the picture. The over-50 adults, the baby boomers, are driving the industry. They're a significant force behind the recovery of the hospitality industry…whether standing line at a popular restaurant waiting to get in, sitting at a martini bar making small talk with a stranger, or picking up an order at a local Chinese take-out, the 78 million baby boomers are shaping the next 20 years.
Dennis Serpone is president of National Restaurant Exchange and New England Restaurant Brokers, Wakefield, Mass.