Bedford, MA According to The Blackham Company, the developer of The Crossing at Bedford located at 54 Loomis St., the sales of all 22 units have been completed. The impressive timeframe included the sale of 19 residential units and three retail units. Matthew Blackham, who has been involved in the development of over 1,000 units in Massachusetts and South Carolina over the past decade, said, "Delivering a quality product at reasonable price points in one of Massachusetts' more desirable communities, has been rewarding."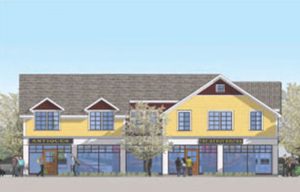 The Crossing at Bedford, 54 Loomis Street - Bedford, MA
"Bedford is a highly desirable, upscale town just 15 miles northwest of Boston," said Blackham, a third generation real estate developer. "Besides our location within walking distance of Bedford Center, we were right on target as far as timing with a highly attractive price point: Buyers were excited to be able to purchase a home in Bedford in the $249,000 to $419,000 price range."
Units range from 730 s/f to 1,144 s/f. Choices included one and two-bedroom flat style and two-bedroom townhomes. Buyers were also attracted by the classic New England exterior style and custom interior architectural details, open floor plans, modern finishes, high ceilings. There is deeded parking and the Crossing is pet-friendly. Owners have front-door access to the Minuteman Bikeway that links Cambridge, Arlington, Lexington, Bedford, and Concord. Many iconic companies have chosen to locate in the area based on the well-educated workforce, ease of commuting to Boston, and highway access.
Project construction began in Q4 of 2014 and was completed in December of 2015. All residential units were sold by this June. The retail condos were sold to three community-oriented, specialty businesses: The Private Kitchen, The Orange Chair (salon), and The Body Boutique (skin care).
The project's general contractor was Baypoint Builders. It was designed by DB2/Architecture and was financed by Bank of New England. Marketing was handled by Mary Tambone Savage of Better Homes & Gardens / The Shanahan Group.
The Blackham Co., a real estate development, investment, and advisory firm founded by Matthew Blackham in 2011, has invested in, developed, or played a direct management role in over $250 million of real estate transactions in Massachusetts and South Carolina, representing 3.2 million s/f of commercial and industrial product and 486 residential units. 
As a community-focused developer, The Blackham Co. develops, redevelops, or repositions real estate with the goal of introducing real estate that excites, energizes, and engages those that come to live, work, and play. Blackham said, "Harmony exists within our developments and with the neighborhoods that they are part of, only by balancing the needs and visions of both."
Real estate is in Blackham's blood: His grandfather, A.J. Tambone, was a highly successful real estate developer and his grandmother, Ann Blackham, launched one of the first woman-owned real estate offices in the region. His father, mother, uncles, and aunts are in the real estate business. "I am humbled and fortunate to have learned the business from my family, an education focused on integrity and relationships," Blackham said.