Stamford, CT The Davis Companies (TDC), in a joint venture with Highland Development Ventures, has acquired a 152,000 s/f, two-story warehouse property at 300 Stillwater Ave. Currently a production studio for reality television shows such as "The People's Court," TDC and Highland are repositioning the property to bring needed self-storage space to the area. According to public record the property sold for $20 million.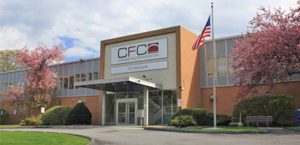 300 Stillwater Avenue - Stamford, CT
This acquisition represents TDC and Highland's sixth self-storage facility development, including both ground-up and conversion projects. Other facilities are located in Newark, N.J., Milwaukee, Chicago and Brooklyn, N.Y.
TDC and Highland estimate that self-storage supply levels in the area and its surrounding communities are 60% below national averages, despite the area's large population base of 400,000 people in a 10-mile radius of 300 Stillwater Ave. This market dynamic drives high rental rates and occupancy in the market, and provides an opportunity to meet this demand with a self-storage facility.
Construction will start this quarter with an anticipated completion in 2018. The architect is Tao Architecture + Design of Moorestown, N.J. Tao's design includes the redevelopment of the existing structure to accommodate self-storage units on two levels joined by a mezzanine structure. The facility offers a leasing office, security, a center drive aisle for access to units, and drive-up units on sections of the property's parking surface.
"We're applying our repositioning expertise to deliver a state-of-the-art self-storage facility to the underserved Stamford community and its surrounding areas. This location is ideal for storage as it is easily accessed from various major transportation networks," said Jeremiah Murphy, a vice president at TDC. "We are working with our valued partner Highland Development to deliver this project."
"The vast majority of renters are expanding businesses and women. To attract and best serve this demographic, we focus on creating class A storage facilities in bright active locations with attractive finishes such as fully climate-controlled buildings and drive-thru convenience. The last feature is rather unique in the industry. Tenants will be able to enter in their vehicles on one side of the building, drive right up to their unit in a climate-controlled building and conveniently load and unload, and then drive out the other end of the building without ever needing to use reverse," said Highland managing partner Adam Hird. "Given the extreme weather in the Northeast, we believe this facility will be unparalleled in the market place."
TDC has a history of adding value to communities through repositioning. In addition to storage facilities, the company has developed and repositioned office and residential projects across the East Coast and beyond. In Conn., TDC recently delivered The Westport Center for Health, which is now home to Village Pediatrics and Women's Health Connecticut. To create this center, TDC reimagined four neglected office buildings at 321-329 Riverside Ave. to create a "one stop shop" for healthcare services, and what is now considered to be the largest assemblage of medical space in Westport.
Committed to excellence in both investment performance and operations, TDC is an integrated real estate investment, development and management firm headquartered in Boston that has invested more than $4 billion in gross asset value through real estate equity, debt, and fixed-income securities. A unique combination of capital markets, development and management expertise allows TDC to tackle complex and contrarian opportunities. Directly, and with its valued partners, TDC currently owns a real estate portfolio of 12 million s/f across the Eastern United States.