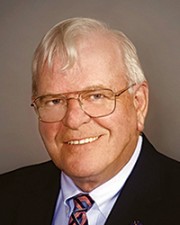 Branford, CT According to Kristin Geenty, president, of The Geenty Group, William Clark has once again received the annual New Haven CID (Commercial Investment Division of the New Haven/Middlesex Board of Realtors) award for the largest number of commercial real estate transactions during 2018.
Clark, senior vice president at the Geenty Group, has been with the company for 32 years and has been a consistent recipient of the annual award for the most transactions in one year.
In 2018, he was the co-recipient of this award with Steve Patten of The Proto Group in North Haven.