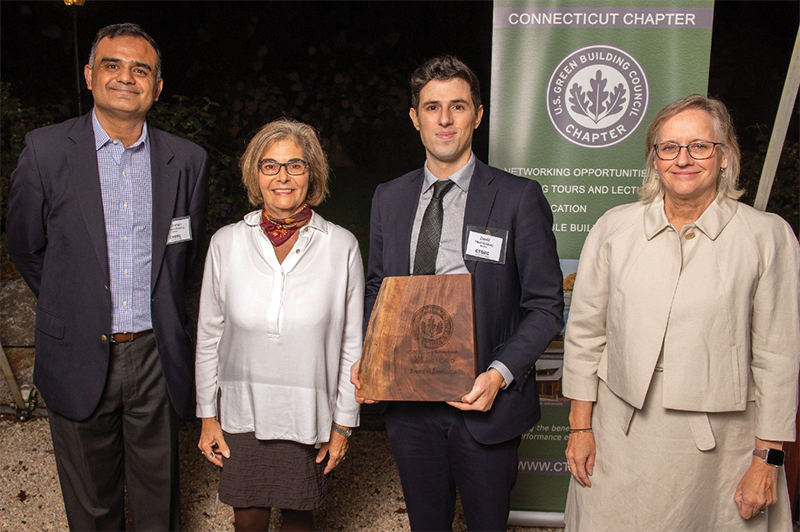 Derby, CT The CT Green Building Council (CTGBC) held its 15th annual Green Building Awards Ceremony at The Hops Company. Each year, CTGBC recognizes excellence in intelligently designed and constructed, high-performance, healthy buildings and sustainable sites, while also honoring individuals who are demonstrating leadership through actions that promote sustainability.
The night's top award, the CNG | SCG | UI | Avangrid Award of Excellence, was awarded to The Tyler in East Haven, an adaptive reuse mixed-income community for seniors, submitted by WinnCompanies. The Tyler is the first adaptive reuse project in the United States designed to adhere to the Passive House Institute's EnerPhit program standards with applicable historic exclusions. The three-story core of the 84-year-old former East Haven High School features 70 apartments for individuals aged 55+, a resident lounge, on-site management office, fitness center, community kitchen, entertainment space, craft room, reading nook, and outdoor courtyard. The original school, which was decommissioned in the late 1990s, was built in 1936.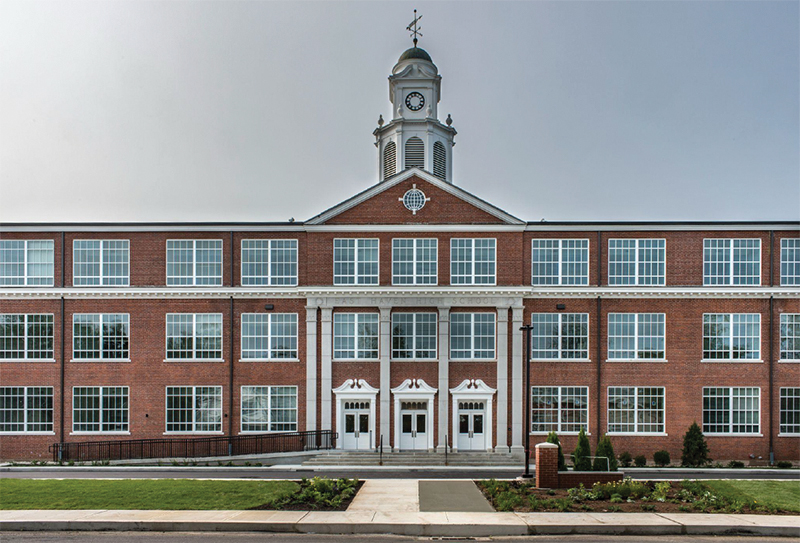 The redevelopment is designed to respect the layout of the original program space by utilizing former light-filled classrooms for units and maintaining the expansive central corridors. As part of the transformation, the 1973 east wing was razed and replaced with a landscaped courtyard and surface parking lot for tenant use.
"Significant progress has occurred since the CTGBC first established the Green Building Awards fifteen years ago," said Alicia Dolce, executive director of the CT Green Building Council.
"This year's Award of Excellence, The Tyler in East Haven, is not only a shining example of an extraordinary achievement of high-performance, health and comfort, it is also a testament to the project teams' vision and commitment to pursue a very high level of rigor in a historic building, constructed eighty-five years ago. Their leadership serves as an inspiration that exemplifies the ethos of CTGBC's mission to accelerate the healthy, resilient, equitable and sustainable transformation of Connecticut's built environment."
A full list of 2021 CTGBC Green Building Award winners is found below:
CNG | SCG | UI | Avangrid Award of Excellence: The Tyler; East Haven, CT Judy Swann Green Advocate Award: Sara Dodson Holmes, AIA, LEED AP, CPHD Trailblazer Award: Greater Bridgeport Community Enterprises; Bridgeport, CT Single Family Residential Award of Merit: Passive House Inspired Modular Home Multi-Family Residential Award of Merit: Sendero Verde
Commercial Award of Merit: Capitol Crossing, 250 Massachusetts Avenue Institutional Award of Merit: Ann and George Colony Hall, Choate Rosemary Hall Institutional Award of Merit: Schiller Coastal Studies Center, Bowdoin College Institutional Award of Honor: Fellows Hall, Williams College
Student Design Award of Honor: The Array Hartford Boutique Hotel
Student Design Award of Merit: The Ulmus Pumila
Student Design Award of Merit: Palisade Hotel
CTGBCis a non-profit organization that envisions a Connecticut that is healthy, resilient, and inclusive, where the built environment mitigates climate change and promotes social equity.