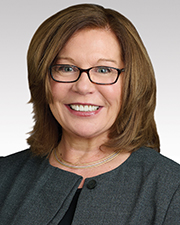 Newton, MA According to Joseph De Vito, president and CEO of The Village Bank, they have hired Maureen Sullivan, SHRM-SCP, as senior vice president/human resources.
Sullivan comes to the bank after working as the executive vice president/chief human resources and marketing officer at Wellesley Bank. She previously was the president and publisher of San Diego Magazine.
The local resident has a long history of giving back to the communities in which she has worked and lived, with a focus on human services and underserved children. She was the president of the Wellesley Bank Charitable Foundation and also has served on the Foundation for MetroWest distribution committee and the Charles River Regional Chamber nonprofit committee.
Sullivan will oversee the human resources and training functions of the bank, and lead the institution's diversity, equity and inclusion efforts.
"We are excited to add Maureen to our talented senior team," De Vito said. "She brings knowledge and experience to the position, and her extensive history of community service makes her a great fit for The Village Bank."
The Village Bank, chartered by the state in 1910, has eight full-service offices in Newton and Wayland, and a corporate office and loan center in Upper Falls. With assets of close to $1.7 billion, The Village Bank was voted one of the Top Places to Work by the Boston Globe in 2021 for the second straight year. The bank is a member of the Federal Deposit Insurance Corporation (FDIC) and the Depositors Insurance Fund (DIF).