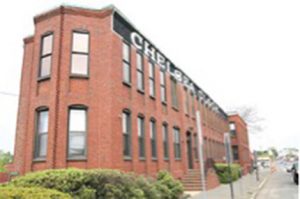 Chelsea Lofts, Chelsea, Mass.
Chelsea, MA
Boston-based Thibeault Development LLC completed the $50 million sale of the assembled land making up the Chelsea Lofts project to Fairfield Residential. The development was comprised of six contiguous parcels over 8.25 acres. It spans almost the entirety of two city blocks. The mixed use project has permits for 692 residential units and 8,500 s/f of retail space.
Chelsea Lofts is a couple of blocks from the soon to be opened Silver Line Station and a few hundred yards away from the on-ramp to the Tobin Bridge. Residents will be able to take mass transit to Logan Airport, the Seaport District and South Station in minutes. The project is just down the street from the new FBI building which is nearing completion.
For the majority of the past century, the site has been used for heavy industrial purposes. Most of the land had been junk yards and Thibeault recently acquired Chelsea Clock for the frontage on Everett Ave. Thibeault Development has been putting the pieces together for more than a decade. William Thibeault, the head of Thibeault Development, noted that former industrial and environmentally challenging sites are one of Thibeault Development's strong suits. Thibeault praised his "team" at Thibeault Development, including real estate director Della Thibeault, attorney Anthony Rossi and in-house general counsel Richard Bennett. He also made sure to note the contributions of the project architect, Hans Strauch of HDS Architecture, the project engineer, Rick Salvo of Engineering Alliance, Inc., and Richard Nylen, Esq., who handled regulatory compliance. "One of our strengths is that we are able to do so much of the redevelopment work, from site acquisition, to finance and even demolition and remediation, in-house. It allows us to undertake the repositioning of challenging sites that others will not touch." He pointed out that his companies have acquired and repositioned almost 40 acres of old junk yards and industrial sites on both sides of the Everett/Chelsea line in the immediate area including what is now a Stop & Shop on Revere Beach Parkway which used to be a waste facility and Restaurant Depot which was formerly the City Of Everett's municipal yard.
Thibeault also complimented the city officials and planning staff. "[Now secretary of economic development and former Chelsea city manager] Jay Ash had a vision for Chelsea's Everett Ave. Urban Renewal District and it is becoming reality. He persuaded us to hang in there and wait and we are certainly glad we did. Fortunately, when Jay left midway through the permitting process, he was succeeded by Tom Ambrosino, who assisted in completing the review process and see the project thru to completion. When Tom Ambrosino was mayor of Revere, he worked closely with us in a similar redevelopment." Thibeault was referring to the 20 acre former Siegel junk yard that his company redeveloped into a BJ's Wholesale Club and 284 residential apartments.
Another instrumental person in the Chelsea Lofts project was John DePreist, director of Chelsea planning and development, who worked diligently to see this project through bringing a favorable redevelopment to the city.
The Chelsea Lofts project reflects the local and national trend of multifamily investors favoring urban in-fill and transit oriented developments. Clearly cap rates being below 5% for such ventures are also driving the strong market. Other communities are starting to follow the lead of the city in terms of adopting favorable zoning policies such the Everett Ave. Urban Renewal District which facilitate project permitting. Those policies are instrumental in the redevelopment of blighted urban areas such as the Chelsea Lofts site. Instead of tired industrial land, the city ended up with a luxury mixed-use development that will attract young professionals to the community.
Thibeault also lauded Fairfield Residential. "We have been working on that site for more than a decade. Fairfield recognized the rising value of Chelsea in general and the unique transit oriented nature of this site in particular, right next to the soon to be opened Silver Line stop. We tried very hard to find a steward for the project who could see it through the construction and lease up so that it ends up being the first class addition to the city of Chelsea that we had always envisioned. I cannot tell you how pleased I was to be able to consummate the transaction with Fairfield who is one of the nation's preeminent real estate companies, especially when it comes to residential projects." He specifically praised Greg Pinkalla and Kevin Maley of Fairfield for their efforts in bringing the deal together.