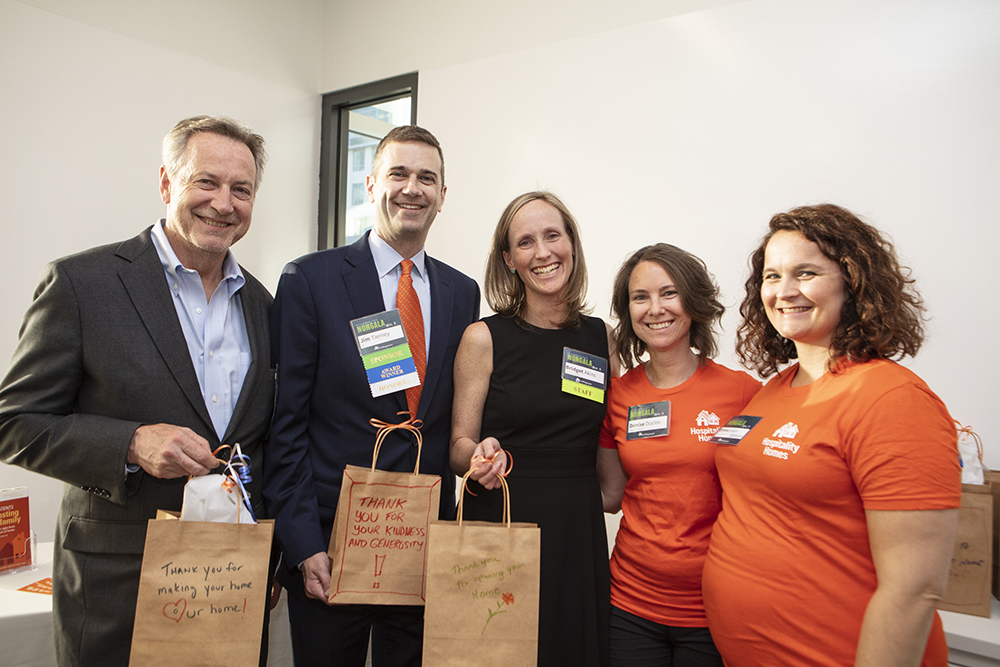 Boston, MA Recently Building Impact, a 14-year-old nonprofit organization that connects the corporate and nonprofit sectors through volunteer engagements and impactful programs, was joined by the business community, local nonprofits, and elected officials, for its 6th annual NonGala at District Hall in the Seaport neighborhood. The highly-anticipated event draws hundreds to support Building Impact's mission to strengthen communities by empowering individuals and companies with opportunities to volunteer, donate, and connect.
This year's NonGala awarded 43 companies with Impact Awards and highlighted two NonGala Honorees - JLL and the Pine Street Inn.
"We're proud to have introduced Building Impact into many of the properties we manage. Their focus on creating opportunities that make a difference in our community goes far beyond financial support and resonates strongly with our firm. We enjoy the opportunity to contribute our time and talents as a team to Building Impact and its partners," said JLL New England Market Director Jim Tierney.
JLL hosts philanthropic events at its Boston buildings that expand Building Impact's reach and engagement. The company recently held an event to support The BASE, an urban baseball league in Roxbury that provides athletic opportunities in baseball and softball, along with college counseling and academic support, to 500 of Boston's youth. The JLL event enabled Building Impact to send three participants and a coach to Red Sox Opening Day and will equip every league member with their own baseball, complete a handwritten message of encouragement from a volunteer. JLL has also teamed with Building Impact on programs to benefit MSPCC, and Franciscan Children's. The firm has had approximately 100 volunteers participating in their events with the nonprofit.
"Pine Street is so grateful for Building Impact and its important work in the community," said Pine Street President Lyndia Downie. "Their kind of community engagement is what helps make Boston a special city – a place where people really care." she added.
Pine Street Inn opens its doors to Building Impact throughout the year, hosting volunteer teams in engaging events that help Boston's homeless men and women. Building Impact recently participated in a "Chop-a-Thon" at the shelter, preparing meals for those in need.
"We believe in the power of engagement and making a personal connection through the volunteer experience. Our partners' efforts range from providing Boston's youth with learning opportunities to assisting the homeless and the elderly. Through the projects we co-design with the nonprofits, we identify ways that volunteers' contributions can help them achieve their important goals," said Bridget Akinc, CEO of Building Impact. "The NonGala funds the innovative programs and the design process that we engage in with our community partners to ensure that our projects deliver measurable impact for our nonprofit partners."
This year's NonGala provided volunteer projects to support five of Building Impact's nonprofit partners, including the Pine Street Inn, ETHOS, The Marble Collection, Hospitality Homes, and Boston Children's Chorus. It also provided an opportunity for the nonprofit organizations to educate the business community about their missions. As a result of its impactful onsite volunteer activities and business model, Building Impact has recently co-designed several new innovative projects including: Boston Public Schools with Technology Underwriting for Greater Good to create the Guppy Tank, a hands-on STEM project for 250 sixth graders hosted by 10 tech companies; Court Appointed Special Advocate's Boston chapter and the MA Department of Children & Families to deliver Dream Journals for youth in foster care in MA; and, Boston Medical and Boston Center for Refugee Health and Human Rights to launch the Professional Pathways for Refugees program.