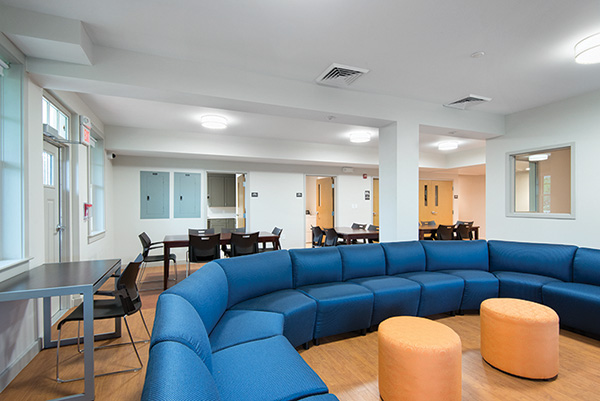 Roxbury, MA Timberline Construction Corp. completed a 12,500 s/f ground-up project for The Home for Little Wanderers. Timberline was honored to be awarded this project and proud to have the opportunity to work with an organization that makes a positive impact on the youth in the Greater Boston area. The Home for Little Wanderers' mission is to ensure the healthy behavioral, emotional, social and educational development and physical well-being of children and families living in at-risk circumstances.
Timberline worked in collaboration with owner's project manager, Northstar, and project architect, Roundel47. The team started construction in November 2017 at The Home for Little Wanderers' new group residence building situated on a tight urban site which included a 1,250 s/f accessory building.
"The quality of Timberline's work and their attentiveness to our needs, made them an excellent partner on this project. They've come through with a building that meets the twenty-first century needs of a two hundred year old child welfare agency," said Thomas Durling, The Home for Little Wanderers CFO.
This project took place in a residential neighborhood on a dead-end street, which required proactive planning for logistics, including constant parking and traffic monitoring. Timberline carefully controlled construction impacts to the surrounding community by mitigating noise, vibration and dust on site. Through the winter months into spring, a significant amount of ledge was removed by drilling and splitting the ledge from the Roxbury lot. Our team established strict safety protocols and protective systems for project security and campus safety. Timberline installed temporary fencing, set up multiple security cameras with motion detectors, and coordinated security patrols to keep the neighborhood and nearby children from entering the site.
Durable materials were used throughout this project, including an abuse resistant gypsum board over an OSB substrate to prevent possible damage and ipe wood for the exterior staircases. Bead board was incorporated into the design to provide a traditional and aesthetically pleasing element. This new campus includes a commercial kitchen, residential living spaces, multiple offices, an elevator, community spaces for activities, and a spacious attic that is home to both mechanical systems and IT room.
Larry Carpenter, Timberline project executive said, "It was a privilege to be part of such a collaborative effort between all participants on this project. For me personally this is what it's all about, building great projects that have a positive impact on our world with a team from multiple backgrounds and disciplines working towards a common goal. My best wishes to The Home and the children and families it supports."