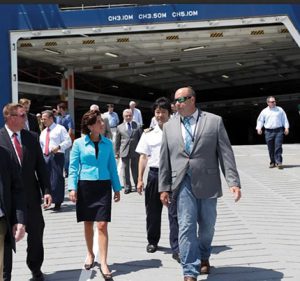 Governor Gina Raimondo welcomes the first Neo-Panamax ship to Rhode Island at Quonset's Port of Davisville
Rhode Island has made great strides over the past two years in building momentum for our state's economic comeback and our ports have been on the leading edge of those efforts.  Already proven success stories, we need to invest in our ports in order to take advantage of the opportunities that will present themselves in the next few years.  Question 5 on the November ballot is the vehicle that will allow us to build on that success and continue to grow.   
At Quonset, the Port of Davisville is consistently one of the Top 10 auto importers on the continent.  In the last 20 years its seen 547% growth in auto imports, and 2015 was the port's sixth consecutive record-breaking year for imports.  The Port of Davisville supports 1,500 direct, indirect, and induced jobs, with an estimated annual economic impact of $333 million.   The port also brings in more than $17 million in state taxes and $10 million in local taxes every year. 
ProvPort also serves as a highly successful economic engine for Rhode Island.  As one of only two deep water ports in New England, the facility handles more than 2 million tons of cargo annually. ProvPort's terminal services have generated an estimated $164 million for the city of Providence and $211 million for Rhode Island since 1994. Indirectly, ProvPort has generated approximately $2.8 billion in economic output for the state since 1994, with $1 billion of that occurring within the city of Providence.
These ports have been and continue to be instrumental components of Rhode Island's economic comeback; however, if we want to keep moving forward, we need to invest in their continued success. Question 5 on this November's ballot addresses these goals directly.
Question 5 asks voters to approve a $70 million investment that will be made in two parts: $50 million to modernize Pier 2 at the Port of Davisville and $20 million for the state to buy land and allow for a new marine terminal in Providence to be built and managed by ProvPort.
Built to last 50 years, the Port of Davisville's Pier 2 is now 60 years old.  In addition to modernizing the pier, improvements would add a third berth to provide more overall capacity.  This effort will allow Quonset's Port of Davisville to stay competitive with other ports in the region while preserving hundreds of jobs in the maritime sector.
A Rhode Island success story in its own right, ProvPort is now filled to capacity with no further room to grow.  Question 5 will allow the state to purchase and own currently underutilized land on Allens Ave. in the city.
ProvPort will manage the new terminal and seek new business opportunities, replicating their success at their current location and share the revenue with the city and the state.  Experts project that the expansion will create 300 direct jobs while generating $19 million in household income and approximately $2.45 million in combined city and state taxes.
This investment will also ensure the Port of Davisville and ProvPort are ready for future business and job growth opportunities. Rhode Island has already shown it can be a leader in off-shore wind projects, with Deepwater Wind's five-turbine Block Island project going online later this year.   Future off-shore wind projects, which envision hundreds of turbines and billions of private investment, will bring thousands of new jobs with them.   Rhode Island is the ideal location to serve those projects which are planned from Cape Cod to New Jersey, but we must invest now or we will be left out.   
The recent expansion of the Panama Canal is also likely to open up new business opportunities in short sea shipping for both ProvPort and Quonset's Davisville.   As the much larger Neo-Panamax ships arrive carrying more containers, additional feeder ships will likely call on ports like Davisville and ProvPort to help alleviate congestion on our highways and railways. With more cargoes arriving, comes the need for more space and more overall capacity.   
Our neighboring states are investing a combined $1.3 billion in their ports in the coming years.  They are doing this because they see clearly the opportunities ahead.  Rhode Island must do the same, or risk being left behind.
Earlier this year in my State of the State address, I noted that if we want first class jobs we need to have first class infrastructure. Our successes at the Port of Davisville and ProvPort illustrate this clearly.  Now, we need to invest in upgrading our port infrastructure in order to preserve that success and prepare for even more growth in the future. 
I urge all Rhode Islanders to join me in voting "yes" on Question 5.
Gina Raimondo is the governor of Rhode Island.