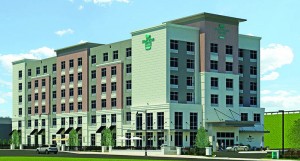 1 Washington Square - Worcester, MA
Worcester, MA Tocci Building Companies participated in the official groundbreaking of the new Hilton Homewood Suites Hotel at 1 Washington Sq., on February 29. Tocci will provide construction management services on behalf of developer First Bristol Corp., while working collaboratively with BMA Designs, ZDS Architectural Design Services, Veitas & Veitas Engineers, and Wozny Barbar & Associates. The $21 million project is expected to be completed in February 2017.
The 118-key Hilton Homewood Suites Hotel will comprise six stories and be constructed with a wood frame over a steel podium. On-site amenities will include a swimming pool, Jacuzzi, and fitness center. Additionally, the development will feature a parking lot suited to accommodate 120 cars. Located off Rte. 290, the new Hilton Homewood Suites Hotel will be situated adjacent to the Historic Union Station (MBTA), offices, an upscale restaurant scene, and shopping opportunities.
"We look forward to our continued partnership with First Bristol Corp. as we deliver the company's first hotel in Worcester," said John Tocci, chief enabling officer at Tocci Building Cos., who spoke at the groundbreaking event. "We will use lean construction methodologies to deliver the Hilton Homewood Suites Hotel in this growing and vibrant neighborhood."
First Bristol selected Tocci for this project due-in-part to its relationship in delivering a Hampton Inn in Raynham, Mass., and the firm's ability to effectively stay within pre-established budgets and schedules.