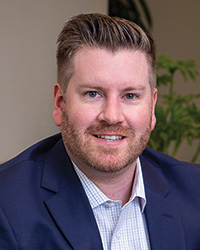 Braintree, MA The Peabody Companies has named Daniel Tompkins as a senior property manager.
In this role he is responsible for the physical, financial, and administrative operations of the buildings within his portfolio, including day-to-day site property duties, resident relations, budgetary analysis and staff supervision, training, and development.
Tompkins joins the Peabody Cos. with experience in the property management industry, most recently as senior property manager with WinnResidential where he managed a portfolio of more than 450 residential units, eight affordable owned condominiums and six commercial spaces. A graduate of Nichols College with a bachelor of science in business, he is a Specialist in Housing Credit Management (SHCM), and a Certified Professional of Occupancy (CPO).
"It's a pleasure to welcome Daniel to our team," said Melissa Fish-Crane, principal and COO of the Peabody Companies.
"His industry experience, comprehensive knowledge of property management practices and regulations coupled with solid communications skills are certain to make him a highly valued member of our organization."