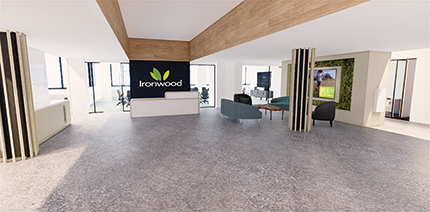 Boston, MA TRIA is designing a new headquarters in downtown for Ironwood Pharmaceuticals, Inc., a gastrointestinal-focused healthcare company. TRIA was selected to provide space planning and corporate interior design services for the design and build-out of Ironwood's new 39,000 s/f headquarters at 100 Summer St. Relocating from Cambridge, Ironwood expects to complete its move to its new office in the fourth quarter of this year.
The Ironwood project team includes general contractor, Lee Kennedy Co.; MEP/FP engineer, WB Engineers; owner's project manager and lease broker, Cushman & Wakefield; and office furniture, Red Thread.
TRIA's design for Ironwood's new headquarters is intended to provide an efficient and collaborative workspace in an open concept office plan. Collaboration areas with seating will be interspersed to create neighborhoods throughout the open office, which will also offer bench seating and personal lockers. Wooden millwork elements break up the open space further to serve as subtle room dividers, while creating storage and semi-private nooks.
The office will provide a variety of workspaces for heads-down work and collaboration, including a library, huddle spaces, phone rooms, and conference rooms of various sizes. To encourage interaction and movement, Ironwood's new office also will feature a large multi-use café space, a coffee bar, and locker rooms with showers.
Sourcing inspiration from Ironwood's name, TRIA's design melds industrial and organic architectural elements to give the space a unified feel. Exposed ceilings, columns and concrete floors are softened by wood finishes and earth-tone colors, distinctive to each neighborhood. Slatted-wood structures offer visual variety throughout the space and provide employees with portals for focused work. Fun yet informative graphics and company branding will be placed throughout the space to raise awareness of the GI medical conditions that the company's medicines are designed to treat.
Mark Mallon, chief executive officer of Ironwood said, "From the beginning of this project, TRIA's highly skilled interior design team helped to shape our vision for a collaborative workspace. We believe this new space will provide an inspiring work environment for employees and help to foster a strong culture of innovation and collaboration."