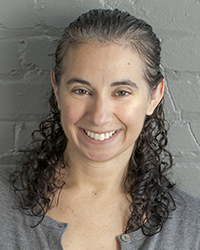 Jane Kepros, TRIA
Boston, MA According to TRIA, a partner-led architecture firm with a focus on science and technology organizations bringing new discoveries to the market, Jane Kepros has been named to Building Design + Construction's 2016 40 Under 40 List, which was featured in the October 2016 issue. This national award is given annually to 40 successful and well-rounded AEC industry professionals younger than 40, on the basis of three factors: career achievement, service to professions and communities, and active participation in charitable works. Kepros was one of the first employees recruited when TRIA was established in 2015, joining the inaugural team as a lab planner.
"When starting TRIA, I knew that Jane would be a vital member of our core team," said Jeannie Thacker, principal and co-founder of TRIA. "Jane's dedication is evident with the meticulousness she employs in her work and creative outputs. Her attention to detail is an art that many are unable to master, but all can appreciate. She is fully committed to everything she sets her mind to. It is this passion, dedication, and intelligence that have resulted in her being the best in her field. In fact, Jane is requested by name from clients for their projects."
 Kepros's career began in a pharmaceutical company's research laboratory as a biomedical engineer and cell/molecular biologist. After nearly a decade in that role, her pursuit of life-long learning and desire for new challenges led her to classes at Boston Architectural College, where she explored her growing interest in architecture. While job searching in 2011, she found an architecture firm looking for a scientist to help design labs, and she quickly immersed herself in a new career. Her insider knowledge of labs and how they operate is instrumental in her ability to provide clients with detailed and innovative lab design plans. Her tremendous enthusiasm helps Kepros develop excellent rapport with clients. She draws upon her strong scientific and technical background to tackle challenging laboratory design and construction projects, aligning herself with the key stakeholders to develop a deep understanding of the client's goals and objectives. By staying current with new scientific equipment and lab design trends, she provides fresh and innovative design plans for a rapidly growing industry. 
In her career as a lab planner, Kepros has programmed over two million square feet of lab and office space for more than two dozen pharmaceutical and biotech companies. At TRIA, Kepros applies her advanced technical knowledge in the laboratory planning and programming of various-sized pharmaceutical, academic research, biotech, or other emerging technical facilities. She has an ability to synthesize complex programming data into coherent space planning concepts, allowing the project team to create designs that meet the needs of clients and ultimately support the research taking place in the lab. She has worked on new construction, renovation, and master planning projects for a variety of science and technology clients.
Kepros achieved LEED Green Associate status on her first attempt, despite never having worked on a LEED project, without having a degree in architecture, and with just over one year of industry experience. She is a member of several professional organizations, including serving as co-commissioner, charity events coordinator, and treasurer of the Massachusetts Biotechnology Softball League. She is also a member of Women In Bio (WIB), the International Society for Pharmaceutical Engineering (ISPE), and Biotech Tuesday.
After work, Kepros is a dedicated volunteer with a number of organizations across Boston, including the Greater Boston Food Bank, Habitat for Humanity Boston, Harpoon Helps, and the National Braille Press. Her work with the Big Sister Association of Greater Boston earned her the Community Based Big Sister of the Year award in 2007. She is also devoted to fundraising. Through the years, she has helped fundraise more than $100,000 for various charities and events, most notably in 2007 for organizing an event that raised over $73,000 for the Red Sox Foundation. She has also supported organizations such as the Angel Fund, Brigham and Women's Hospital, Jimmy Fund, Leukemia and Lymphoma Society, Save the Harbor/Save the Bay, St. Jude Children's Research Hospital, and the Susan G. Komen Foundation.
Kepros is passionate about organizing extracurricular activities for her coworkers. She has organized teams for many industry events, including TRIA's participation in this year's IIDA New England Fashion Show. Jane has also chaired teams for the JP Morgan Chase Corporate Challenge and the Union Office-Allsteel Toys for Tots drive. 
Kepros received her bachelor of science in Biomedical Engineering from Boston University. 
TRIA practices the science of architecture. They combine a deep understanding of the unique needs of science-based organizations with decades of experience constructing spaces and places that enable those organizations to meet their goals. Using a principal-driven approach, they partner closely with clients to enable business success and advance new discoveries, in the lab and across the organization.