Amherst, MA According to Finegold Alexander Architects, the University of Massachusetts Amherst's recently renovated Old Chapel has received LEED Gold Certification. LEED (Leadership in Energy and Environmental Design) is a green building certification system, providing verification that a building or community was designed and built using strategies aimed at improving performance across the metrics that matter most: energy savings, water efficiency, CO2 emissions reduction, improved indoor environmental quality, and stewardship of resources and sensitivity to their impacts.
"Sustainability and energy efficiency is a priority for the campus, and we are proud to have been awarded LEED Gold designation for the historic UMass Old Chapel," said Ludmilla Pavlova-Gillham, from UMass Amherst.
The chapel was originally designed by Steven C. Earle in the Richardsonian Romanesque style, constructed in 1884 as a multi-purpose facility serving as a library, museum and assembly hall. The building was renovated in 1936 and served as a classroom building for more than 60 years, but was closed in 1999 for code and access deficiencies. In 2014, Finegold Alexander, along with a team of engineers and specialists began to evaluate the building for restoration and transformation. The chapel was placed on the national Register of Historic Places in 2015, and began a $21 million renovation, addition, and preservation effort to restore the building to its original glory.
"Turning this architecturally significant historic building into an energy efficient space was a challenge, and we thank UMASS for partnering with us to make the Gold LEED Certification possible," said Regan Shields Ives, principal, Finegold Alexander. "As energy efficiency becomes more and more central to the long-term maintenance needs of university structures, we hope that other colleges and universities will take this building as an example of how smart design can impact a building's use, and energy footprint long into the future."
The revitalized chapel now serves students, faculty, and alumni as a venue for lectures, events, performances, receptions, weddings, and gallery exhibitions. When the building is not in use for campus programs it serves as a student center. The Old Chapel demonstrates how design for historic preservation and sustainability can work together in a renovation project.
Key sustainable design elements include the following: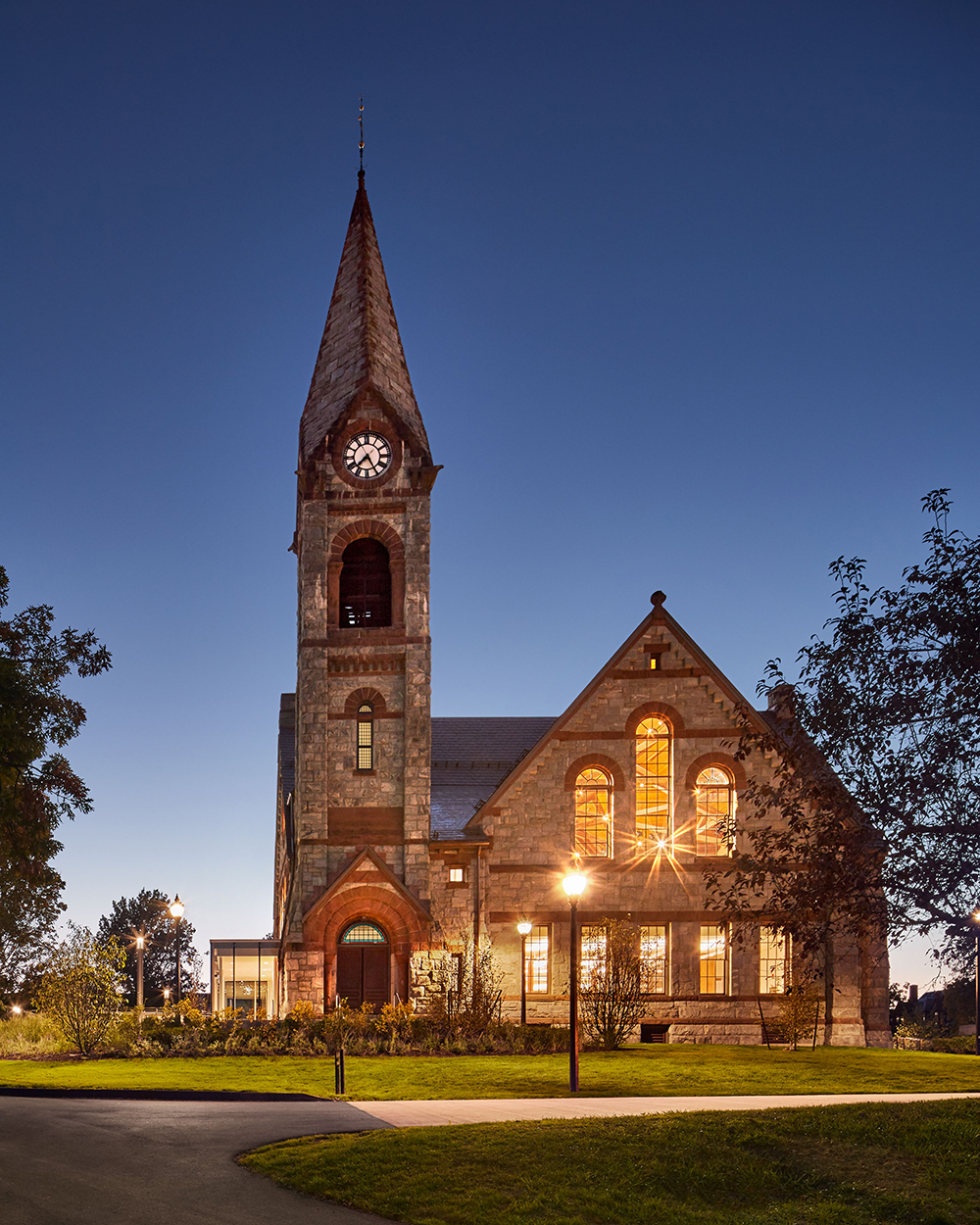 • 21% cut in overall energy use through added insulation, exhaust air recovery, improved interior and exterior lighting power density, and variable speed pumping on chilled and hot water distribution;
• 34% reduction in potable water use via low-flow plumbing fixtures;
• 82% of new wood products are FSC Certified;
• 83% of existing structural elements were reused;
• 84% of construction waste was diverted from landfills;
• High efficiency LED light fixtures;
• Green Housekeeping Program;
• Active green building public education programs;
• Comprehensive transportation management plan;
• Water efficient landscaping that improves site ecology without permanent irrigation methods; and
• Compact building footprint maximizes open green space.
The design created an integrated landscaped terrace with an accessible ramps and a contemporary glass entry pavilion at the south facade. A flexible layout with multi-use spaces, new AV and IT systems, a large format interactive display wall, an underground mechanical vault, and insertion of an elevator brought the building up to code. In addition, the second-floor Great Hall was restored to its original splendor, for use by campus groups, alumni, and for private events. Construction was completed in the Fall of 2016 and the ribbon cutting took place in March 2017.
The United States Green Building Council (USGBC) developed the Leadership in Energy and Environmental Design (LEED) rating system to certify buildings as meeting a specific set of standards for green building.
Finegold Alexander creates imaginative, inspired and transformative architecture. Architecture established by a collective sense of what is possible. Architecture built on client and community needs and values. Architecture derived from a comprehensive knowledge founded on 50 years of experience. They thrive on the complex. They seek exciting and innovative solutions. They delight in the recognition that something worthwhile has been created.