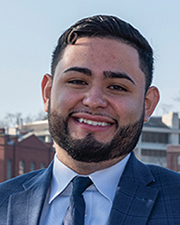 Westport, CT Vidal/Wettenstein LLC has hired Silvester Garza to the veteran commercial real estate firm. Silvester grew up in Bridgeport, and has worked in both the jewelry and insurance industries and brings with him an impressive track record. Within his first year of working in real estate, Silvester facilitated several closings and developed trusted relationships with local business owners.
Silvester joins the firm on the heels of the 50th anniversary. "I am excited for his ambition and vision," said Heather Lucas who has been with the firm over 15 years.
"In this ever-evolving industry, it is important to gain fresh perspective taking into account his youth and exuberance."
Silvester is fluent in both English and Spanish and is currently completing his degree in Business Administration.