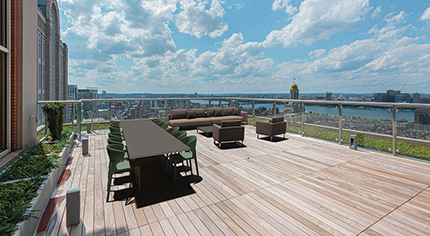 Boston, MA Visnick & Caulfield, in partnership with STUDIOS architecture, completed a roof deck amenity for a law firm at 222 Berkeley St. The roof deck's location offers employees views of the city and Cambridge including 200 Clarendon St., the golden dome of the State House, and Zakim Bridge.
To maximize employee engagement with, and enjoyment of, the space, the design team worked with contractors, Corderman & Company; structural engineers, McNamara Salvia; and the building owner, Oxford Properties, to complete a deck that would be safe and functional for the law firm's employees.
Access to the roof deck is gained through the firm's café and lounge by either a small set of stairs or ADA compliant wheelchair lift. As an extension of the lounge amenity space, the 750 s/f roof deck provides greater options for employees when they want to get away from their desk, whether its personal time or a casual meeting space on a nice day.
Concrete planters along the building's façade add a touch of greenery to the outdoor space. To increase the amount of plant life on the roof deck, without obstructing the views, recessed planters at the base of the railing were installed. Maintaining the view was of the utmost importance. Glass railings safely enclose the space.