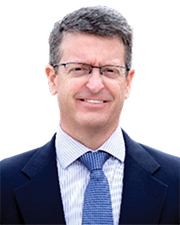 Boston, MA According to Stantec, Kevin Walsh, a seasoned environmental expert with proven success guiding large-scale transportation projects through the project delivery process, has joined the firm as a principal in the transportation practice. Walsh holds nearly 30 years of transportation industry experience with a longstanding focus on state and federal-level environmental compliance for highway projects.
Walsh joins Stantec from the U.S. Department of Transportation (USDOT) Volpe Center, where he served as an environmental project manager overseeing the NEPA process for complex transportation projects, serving as a project manager for the Federal Highway Administration's "Asset Management, Extreme Weather, and Proxy Indicators Pilot Program," and developing regulatory guidance for US DOT agencies. Prior to this role, he worked for MassDOT for over 25 years, most recently as director of environmental services where he delivered environmental clearances on an annual billion-dollar construction program.
Walsh is highly knowledgeable in state and federal environmental laws and regulations, pertaining to transportation projects, including the Massachusetts Environmental Policy Act (MEPA), National Environmental Policy Act (NEPA), and Section 4(f) of the USDOT Act. A respected thought leader, Walsh has presented at industry conferences across the US on a range of environmental topics, such as transportation system resiliency, streamlined project delivery, and wildlife management.
During his time at MassDOT, Walsh served in leadership roles in the American Association of State Highway and Transportation Officials' (AASHTO) as a steering committee member for the Standing Committee on the Environment, and the Resilient Sustainable Transportation Systems Committee, Chair of the NCHRP 25-25 Research for the AASHTO Committee on Environment and Sustainability, as well as Chair of the Environmental Process Subcommittee. He remains an active industry contributor.
"Kevin brings a highly valuable set of skills in guiding high-profile, multifaceted projects seamlessly navigating through all necessary environmental laws and regulations," said Peter Howe, Stantec vice president and regional leader for New England. "His extensive knowledge in this space, coupled with his deep-rooted industry relationships, will prove to be an asset in supporting the strategic growth of our Transportation team."