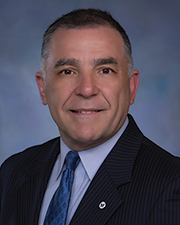 Providence, RI According to The Washington Trust Company, Anthony Botelho has joined the bank's commercial lending group as senior vice president of commercial banking and commercial & industrial (C&I) team leader. Botelho has more than 35 years of experience at local and regional banks and most recently served as president of Freedom National Bank in Greenville. A seasoned C&I and commercial real estate lender, he will focus on retention & growth of commercial and industrial C&I loans and municipal and commercial deposits.
Botelho is a committed member of his community and has been involved with municipal chambers and non-profit organizations over the years.
He currently serves on the board of directors of the Northern Rhode Island Chamber of Commerce and formerly served as the president of the Rhode Island Bankers Association, where he is still a member.
"We are excited to welcome Tony and know he will quickly become an invaluable member of our team," said Jim Hagerty, executive vice president & chief lending officer at Washington Trust. "His commitment to excellence, leadership, and fresh perspective will add to the value that Washington Trust brings to our clients."
Botelho holds a bachelor's degree in Business from the University of Rhode Island and an MBA from Bryant University.