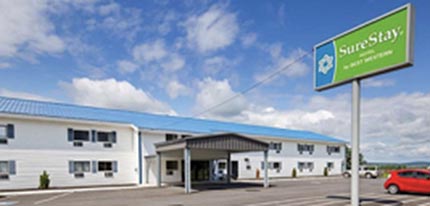 Presque Isle, ME Wason Associates Hospitality Real Estate Brokerage Group negotiated the sale of the SureStay Hotel by Best Western to Sucha Dillon Estates, LLC.
Sucha Dillon Estates purchased the newly renovated 52 room, 7 apartment property on July 9, 2021. Jim Doucette and Earle Wason were the brokers for Wason Assocs. that represented the seller and presented the property.
The SureStay Hotel is on 15.4 acres and is located beside the University of Maine in Presque Isle.
Surrounded by shops, sports venues, businesses and other education institutions like the Northern Maine Community College, guests are never far from entertainment. Situated alongside snowmobile and ATV trails, guests can enjoy Maine's great outdoors by biking, skiing, hiking, or snowshoeing at the Nordic Heritage Center where they're something to love in all seasons.
SureStay Hotel has gone through renovations in the last few years to join the Best Western Chain. This Best Western-branded hotel features 52 clean, rooms with some suite-style rooms that include kitchenettes and 7 apartments for extended stays.
"Due to its renovations, SureStay Hotel has been performing very well in its market, and I am pleased that we could structure its successful transfer," said Wason, president of Wason Associates. "The SureStay Hotel is ideally situated for visitors looking for the best value in Presque Isle, as well as the nature-lover looking to explore in any season. At Wason Associates, we are proud of transactions such as these that clearly benefit both parties."