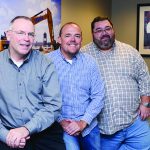 Shown (from left) are: Founder Bill French, Sr., president Bill French, Jr. and vice president Tom Dion
North Billerica, MA  After nearly a half-century in business, W.L. French Excavating Corp. is celebrating several recent awards recognizing continued sustained growth, industry leadership, quality work and focus on community.
Earlier this summer W. L. French Excavating was recognized as the winner in the large firms category (100+ employees) at the 2016 Massachusetts Family Business of the Year Awards, presented annually by the Northeastern University Center for Family Business.
W. L. French Excavating was selected for the honor based on its excellence in the categories of business success, positive business and family linkages, multi-generational family involvement, contributions to the community and industry, and innovative business practices or strategies.
"It is an honor to be named Massachusetts Family Business of the Year.  We are very proud of the work we have done as a family to build and grow this business to where it is today.  We consider our core group of employees and the vital team that supports us a part of our family and our success  – we would not be where we are today without them," said company president, Bill French, Jr.
With a three-year sales growth of 82%, today W. L. French Excavating Corp. was included among the nation's fastest-growing independent small businesses on Inc. Magazine's 35th annual Inc. 5000 list.
W. L. French was also named as one of Boston Business Journal's Top 100 Largest Private Companies in Massachusetts, moving up 13 spots from last year's ranking of private companies based on self-reported revenue. 
Placement on these lists affirms W. L. French's success and growth resulting from its commitment to a wide range of clients, its role as a leader in the Massachusetts construction and soil management and disposal industry, as well as its philanthropic and community-focused efforts.
W. L. French's clients include leading general contractors and construction managers, commercial real estate developers, institutions, various state agencies and municipalities as well as urban commercial developments.
W. L. French Excavating Corp. is a family-owned company providing construction services across New England since 1972.
Services offered include mass excavation, site remediation, heavy utility construction, soil and waste management, operation of soil reuse facilities and snow and ice management services.