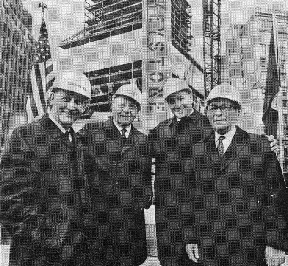 Shown (from left) are: Owner representatives George Ellis, president, Keystone; David and Daniel Rose; and Barnett Shine of Central & District Properties.
The steel structure is now rising for the 32-story Keystone Building at High, Congress and Purchase Sts.
Co-owner of the $30 million office tower with Rose Assoc. are Central & District Properties, London and Keystone Custodian Funds, Boston, the prime tenant.
Leasing and managing agents for the tower is William C. Conman & Son, Boston.