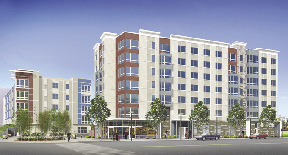 Metro Green Residences - Stamford, CT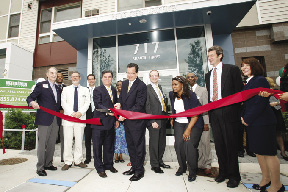 Shown (from left) are: Peter Malkin; resident David Harris; Jonathan Rose; Congressman Jim Himes; Stamford mayor Michael Pavia; Elise Coleman; Conn. gov. Dannel Malloy; Nick Lundgren; Treva Franks; Elliot Hobbs; Anthony Malkin; and Ann Soja.
Connecticut Governor Dannel Malloy, Stamford Mayor Mike Pavia and Congressman Jim Himes joined co-developers Jonathan F. P. Rose, president of the Jonathan Rose Companies, Inc.; Peter and Anthony Malkin, chairman and president, respectively, of Malkin Properties; HUD and DECD officials, financing partners, community leaders and residents at a ribbon-cutting ceremony on May 30 marking the opening of Metro Green Residences, a 50-unit mixed-income green housing development located one block from the Stamford Metro North Railroad Station at the corner of Henry and Atlantic Sts.
Metro Green Residences is the second green housing development by the team at Metro Green, designed to provide housing opportunities to people of many income levels and lifestyles, including working families, young professionals and retirees. Metro Green Residences is a seven-story, block-and-plank new construction building, including a diverse mix of one, two and three-bedroom units. Forty of the units are designated for reduced income households with incomes ranging from 25% to 60% of area median Income, while 10 units are available at market rate. With a rapid and successful lease-up, only three market rate apartment units and two below market rate units remain available. Over 1,600 s/f of green retail space is available at the ground floor adjacent to the plaza and rain garden through Westport, CT-based Saugatuck Commercial Real Estate.
Metro Green Apartments, the first phase of the Metro Green master plan, achieved the U.S. Green Building Council's LEED New Construction Gold certification and is fully leased. Upon completion, Metro Green, a mixed-use Transit-Oriented Development (TOD), will consist of 238 mixed-income residential units and a 17-story, 350,000 s/f sustainable class A office tower. The overall Metro Green Residential project has received LEED ND Gold Certification for Neighborhood Development.
Metro Green Residences is a leading model for transit-oriented, LEED certified, mixed-income housing development in the state of Connecticut, developed in a smart-growth location. Designed by the Stamford office of Perkins Eastman Architects, the new building is seeking to receive LEED Gold Certification for New Construction.
It has been a long road to development in the 25 years since Malkin Properties acquired the 5.2-acre former brownfield site, through zoning changes; several city administrations; and a myriad of local, state and federal funding agencies that helped bring the project to fruition. Financing for the $27 million Metro Green Residences project was arranged through low-income housing tax credits from the Connecticut Housing Finance Authority, the Connecticut Department of Economic and Community Development, the American Recovery and Reinvestment Act, the Department of Housing and Urban Development, the City of Stamford, JPMorgan Chase and First Sterling Financial, Inc.
Rose thanked local community leaders, city, state and federal agencies such as the Department of Housing and Urban Development, Office of Housing and Urban Development, Connecticut Department of Economic and Community Development, the South End Neighborhood Revitalization Zone and CTE, Inc., the federal and state designated Community Action Agency for the Stamford, among the many others who have contributed to the success of Metro Green.
Shown (from left) are: Peter Malkin of Malkin Properties; resident David Harris; Jonathan Rose of Jonathan Rose Companies; Congressman Jim Himes; Stamford Mayor Michael Pavia; Elise Coleman, NRX board member; Connecticut Governor Dannel Malloy; Nick Lundgren of DECD; Treva Franks of CTE; Elliot Hobbs of JP Morgan Chase; Anthony Malkin; and Ann Soja of First Sterling. Photo by Freeman Productions, LLC