Boston, MA Abbot Building Restoration Co. completed a masonry restoration project at a 5-story brownstone condominium building located at 33 Chestnut St. in the city's historic Beacon Hill section.
2003 Project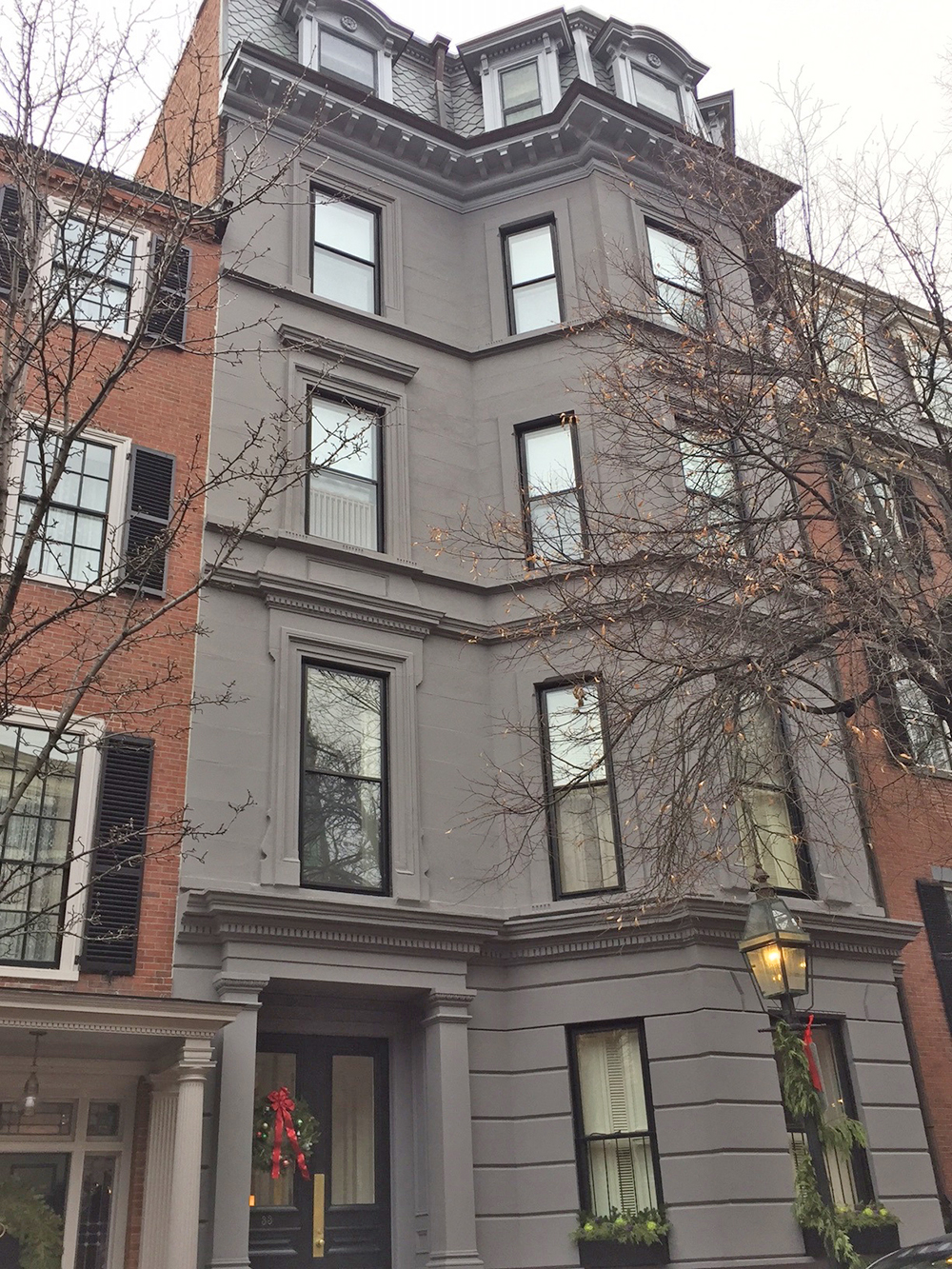 Abbot had originally been contracted by the condominium association back in 2003 to perform a comprehensive restoration of the front of the building. The work included restoration of the brownstone, removal and installation of a new slate mansard, and painting and caulking work. In the process, Abbot removed the original slate and replaced the rotted wood underlayment and waterproofed the underlayment. Abbot then installed a new slate face, and installed new copper trim, copper gutters, and a copper shelf. To complete the repairs, Abbot performed minor restoration of the wood trim, then painted and caulked all the wood and windows within the mansard with a historically approved color.
In the body of the building below the mansard, Abbot removed all of the deteriorated brownstone and repaired the defective areas using a restoration cement. Again, Abbot coated the brownstone with a historically approved color coating. Finally, Abbot caulked and painted the windows and the front door.
2016 Project
As is often the case due to Abbot's strong client relationship and quality workmanship, the Condominium Association proactively contacted Abbot in the fall 2015 to reevaluate the condition of the front of building. Abbot determined that the previous restoration performed in 2003 was still in excellent condition. However, the new investigation uncovered deterioration on the mansard windows and dormers that were not part of Abbot's original restoration work.
Based on this new evaluation, Abbot was contracted to perform repairs in the spring of 2016. The repairs consisted of wood dormer restoration, including removing all of the trim around the mansard windows and some of the wood framing, and replacing the deteriorated wood with new wood. Abbot also removed the dormer roofs and replaced them with new roofing.
Below the mansard, Abbot hammer tested the brownstone and removed any defective regions. Abbot then repaired these areas with a special brownstone colored repair material as directed by the Beacon Hill Architectural Commission. The commission's rationale for requiring special colored repair material was the understanding that if the coating were ever removed from the façade in the future, the new repairs would match the original brownstone to create a natural appearance, Finally, Abbot recoated the brownstone façade with the same approved color coating to create a uniform appearance, and caulked and painted all of the windows and the front door.
Abbot provides a broad range of masonry construction services to public, institutional, and commercial clients, including condominiums, property management entities, and private residences. The firm also acts as a general contractor for a variety of masonry building construction projects.