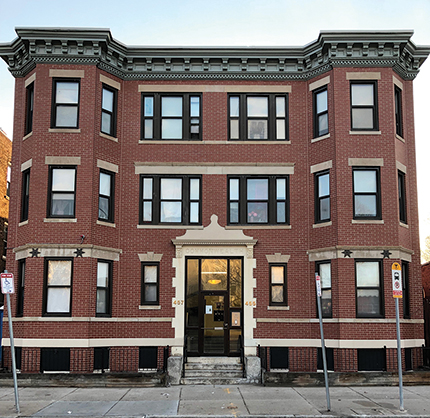 Dorchester, MA Abbot completed a masonry maintenance project on a three-story brick apartment building at 455-457 Columbia Rd. Abbot secured the contract as low bidder in a competitive bidding process.
The scope of Abbot's work involved power washing, cutting and repointing brick, recaulking windows, and coating the stone headers and sills on all four sides of the building. Abbot also painted the ornamental metal coping at the top front elevation of the building.
During the power washing process, it was determined that cleaning work previously performed on the specially-treated face brick under the windows on the front of the building created blemishes that could not be removed during the new cleaning process. To remedy the situation, Abbot suggested that all the brick on the front elevation be removed and replaced with a new matching brick. The workmanship was so precise, that even the trained eye could not detect the change.
Abbot provides a broad range of masonry construction services to public, institutional, and commercial clients, including condominiums, property management entities, and private residences. The firm also acts as a general contractor for a variety of masonry building construction projects.
Specific areas of expertise include: Brick and stone restoration, repointing, recaulking, concrete repair and protection.