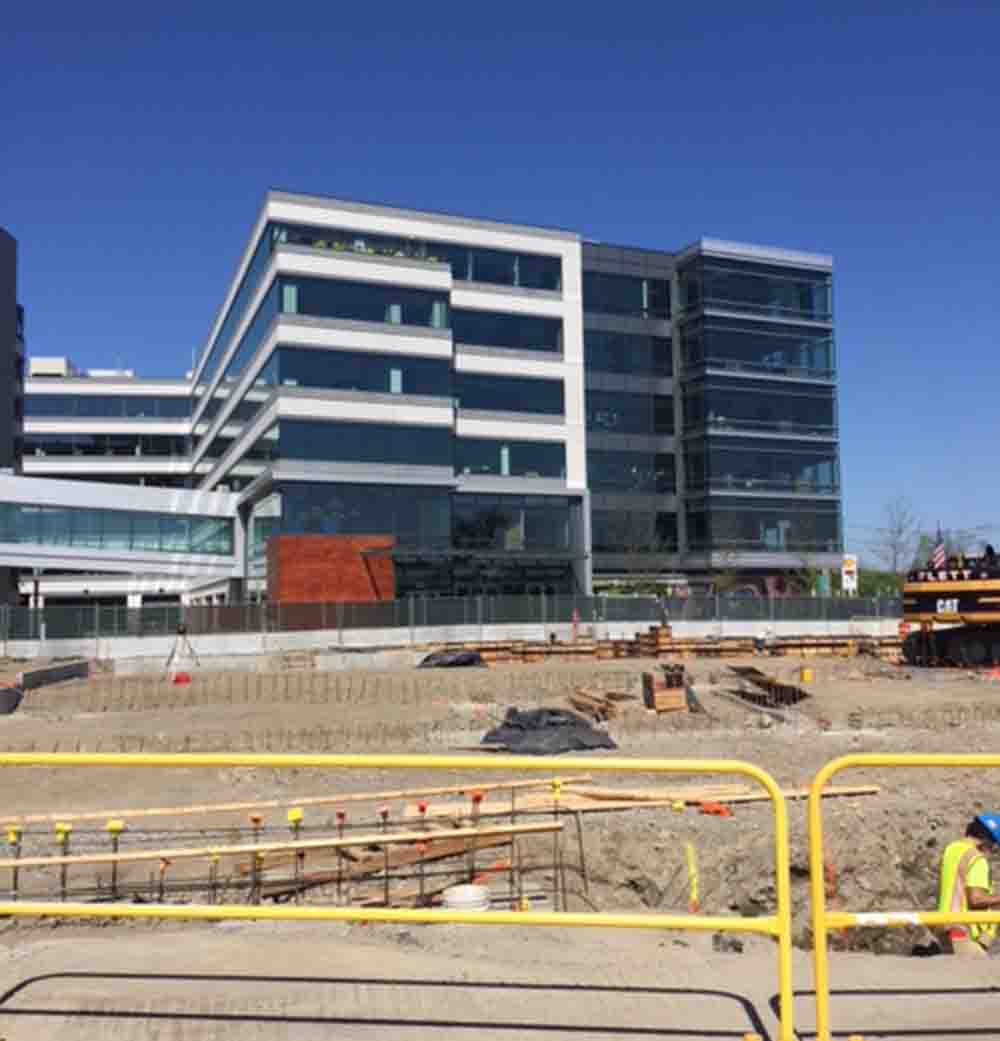 Waltham, MA AHA Consulting Engineers has been selected to assist in the design and development of Boston Properties' 20 CityPoint building. The AHA team will provide MEP/FP, LEED, low voltage, energy services, and construction administration for this mixed-use project. They will collaborate with architect Elkus Manfredi, civil engineer Vanasse Hangen Brustlin, Inc., and structural engineer McNamara Salvia, Inc.
20 CityPoint will have six floors and total 211,000 s/f of class A office space. The building's anchor tenant, engineering firm Simpson, Gumpertz, and Heger, has already agreed to lease 110,000 s/f and plans to move into the space as early as August 2019.
The remaining area will include street level restaurants, and the building will be accompanied by a multi-level parking structure that will provide 3.4 parking spaces for every 1,000 s/f of building space.
Within their office space, Simpson, Gumpertz, and Heger will house their engineering and corporate teams. The interior will include an expanded experimentation center and the firm's physical, materials, and digital laboratories. This office will complement an additional 14,000 s/f office space in the Prudential Tower in Boston.
AHA has also been chosen to assist in the fit out for another of the building's tenants, Infinidat. The interior of their office space will include a board room, large pantry, several conference rooms, two data centers, and a lounge area. The data centers will compose 5,000 s/f of Infinidat's 25,000 s/f total and will require a generator, rooftop chiller, U.P.S. system and special fire suppression.
A new connector bridge will be built from the second floor of 20 CityPoint to the second floor of 10 CityPoint, which is another Boston Properties location. This connector bridge will allow access to the amenities offered in the 10 CityPoint building. AHA was involved in the original construction for 10 CityPoint, including the implementation of a pond on the exterior that was provided for fire protection purposes.
The 10 CityPoint building contains the offices of Wolverine Worldwide, specifically the headquarters of their Sperry Top-Sider, Saucony, Keds, and Stride Rite brands. The facility is LEED Gold certified.
20 CityPoint will be located at 480 Totten Pond Rd. It is situated on Rte. 128 at the exit 27 interchange.