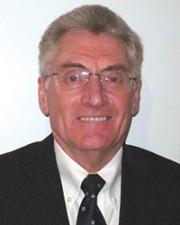 Topics for this column are always challenging as Jeff always gets so many great professionals to fill the pages of The Appraisal/Consulting section of NEREJ, I get a little intimidated. However, I just finished a monthly telephone conference call as a member of the executive committee of the International Property Measurements Standards Coalition (IPMSC) and I thought it would be a good opportunity to bring you up to date regarding its activities.
IPMSC started as a group of about 13 organizations at a meeting in Washington, D.C. in 2013, with the intent to standardize the measurement of buildings throughout the world. RICS (The Royal Institution of Chartered Surveyors) and BOMA (Building Owners and Managers Association) International, where the two major drivers of this effort as they both had a unique global perspective of the problem with calculating building area, for all property types.
My involvement came as a result of being a member of The Appraisal Foundation (TAF) and TAF's president, Dave Bunton, thought I would make a good representative, as I was and still am a practicing appraiser.
Fast forward to today's meeting and in the span of four short years the work of this organization is nothing short of amazing. From 13 members to now 86 member organizations throughout the world, on all six continents. In addition to these 86 non-profit member organizations there are almost 200 IPMS Partners, who are, "at the forefront of the IPMS initiative and have registered their support in establishing the standard across property markets." This group includes seven governments including the UK, Dubai, New Zealand and Bahrain, 23 measurement companies, 15 universities, 17 development companies, 6 data providers, 15 investment companies and 88 advisors/consultants.
OK Steve, sounds impressive, but what are all these groups and organizations so gung ho about? Well, I'm glad you asked. As I said, the premise and underlying basis of IPMSC is, "to produce international standards that will enable different classes of buildings to be measured on a transparent basis. IPMS will promote market efficiency through greater confidence between investors and occupiers by providing consistent property measurements for transactions and valuations." The original members of IPMSC set about constructing a Standard Setting Committee (SSC) that were tasked with creating property measurement standards for four major building types, including office, residential, industrial and retail.
In 2014 the first IPMS was completed for office buildings and along with English, it has already been translated into 12 languages. The IPMS for residential was completed in 2016 and along with English has already been translated into two additional languages. The IPMS for Industrial is in its second exposure draft, which will be completed in June and then be published by the fall of this year. Retail is in process with the SSC and an exposure draft is expected to be out shortly.
Think of what this will mean to practicing appraisers going forward. No more confusion or concern about reporting apples to apples. We will be able to get true, accurate and universal measurements of almost all building types in which we are involved. I know that IAAO, the International Association of Assessing Officers has already begun to put classes together that revolve around the IPMS created and plan on adopting all four once they are complete.
Here in the US we've still got to get NAR on board, so if you have any contacts, spread the word. This is a great opportunity to make things easier and better for our profession.
I urge you all to visit IPMSC's website (IPMSC.org) and if you have any questions or would like to help, give me a call or text or e-mail.
Thanks!
Steven Elliott, SRA, MRA, is principal at Elliott Gottschalk & Associates, Ashland, Mass.