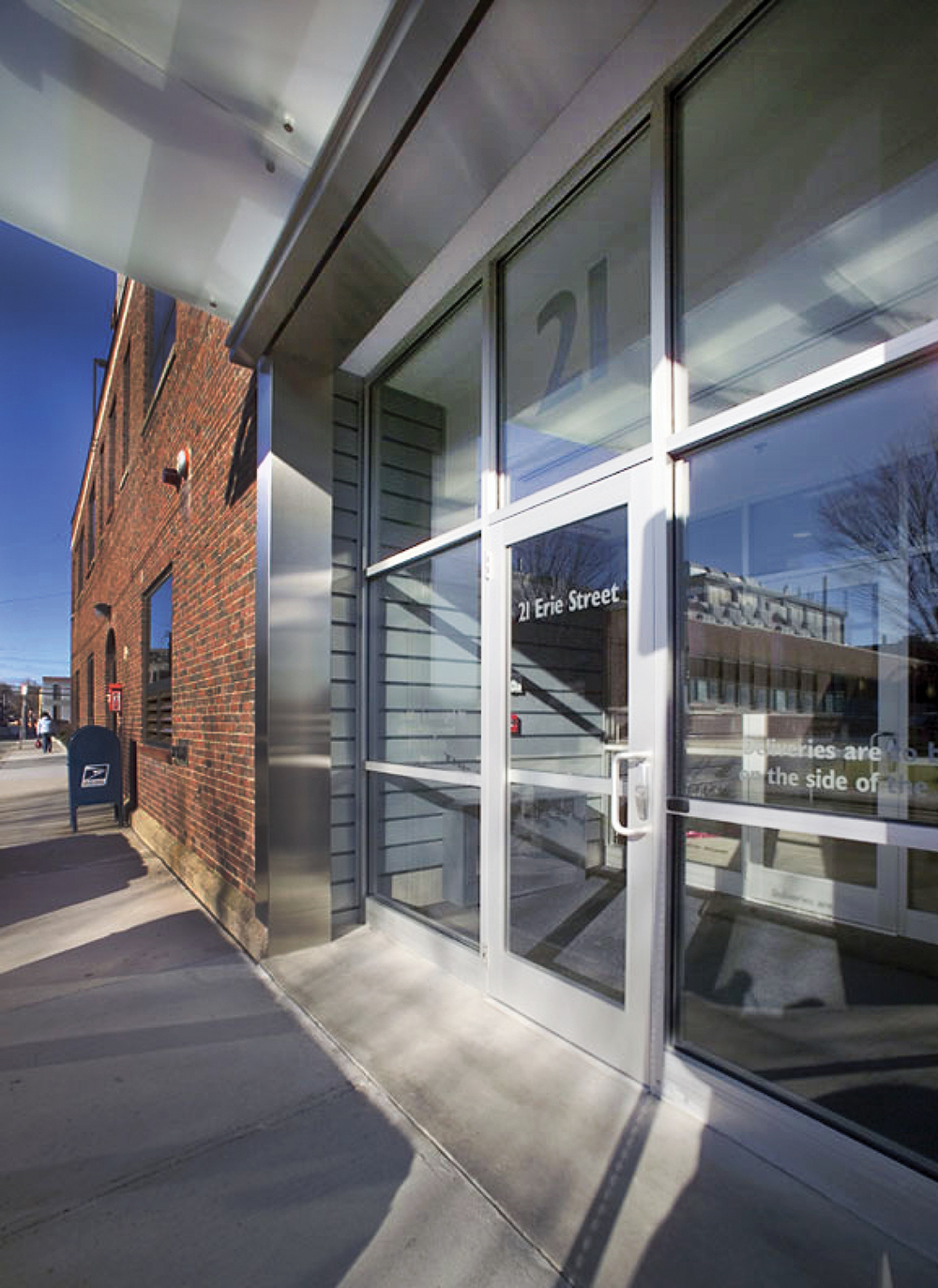 Cambridge, MA According to life sciences real estate developer BioMed Realty, Mass Innovation Labs will lease the entire 21 Erie St. building bringing the Sidney Research Campus to fully leased. The building is located in the center of the city giving Mass Innovation Labs the ideal proximity to funding and talent for growing businesses. The office and lab will open in May and will include a long term lease of the 52,000 s/f space.
Ted Lyons and Chris Walsh of Cushman and Wakefield represented the tenant. Eric Smith, McKenna Teague and Steve Purpura of Transwestern represented the landlord.
Since opening its doors in Kendall Sq. in May of 2015, Mass Innovation Labs has provided biopharmaceutical and life sciences companies of all sizes laboratory and office space that is customized and scalable to meet their exact needs. Mass Innovation Labs' dedicated staff helps companies build out space quickly, often in a matter of weeks, to get research and discovery up and running. This turnkey program has been home to some of the most successful emerging life sciences companies in recent years, including Editas Medicine and CRISPR Therapeutics, with member companies securing more than $5 billion in funding. BioMed Realty's expertise in the top life sciences cluster in the nation complements Mass Innovation Labs' efforts in providing premium support and services to emerging and mature companies alike.
"We're happy to have Mass Innovation Labs as a continued turn-key scientific accelerator partner and Cambridge resident. With 21 Erie's location, it is ideal for exploring opportunities with local talent, partnerships and funding for evolving companies," said Morgan Weinstein, senior director at BioMed Realty. "This lease with Mass Innovation Labs completes the transformation of the Sidney Research Campus from a single-tenant property to a 343,000 s/f vibrant, multi-tenant campus in two years."
"Our move into the Sidney Research Campus is a tremendous opportunity for us to expand our mission of supporting biopharmaceutical and life sciences companies in bringing game changing products to market faster," said Amrit Chaudhuri, CEO and co-founder of Mass Innovation Labs. "From gene editing therapies to the next frontier of cancer research and cures, our member companies have achieved major milestones while working with the Mass Innovation Labs team. Our move into this new space is validation that our program works, and offers companies a critical edge in this highly competitive industry."
Mass Innovation Labs provides a wide spectrum of services including space design, enterprise IT, intellectual property support, human resources, waste management among many others. To learn more about the program, visit massinnovationlabs.com and follow us on Twitter and LinkedIn.
Mass Innovation Labs embodies an ecosystem of innovators across the biotech, pharmaceutical and technology industries. With locations emerging throughout the Boston area, we're providing first-class space for growing companies to have access to comprehensive lab needs, including animal facilities, on-site CRO support, technological and operational needs. Our goal is to reduce the time for teams to overcome hurdles in achieving milestones.
BioMed Realty invests in the highest quality institutional real estate to meet the needs of the growing demand across the life science industry. The company owns or has interests in properties comprising approximately 12 million rentable square feet across the U.S. and Cambridge, UK.