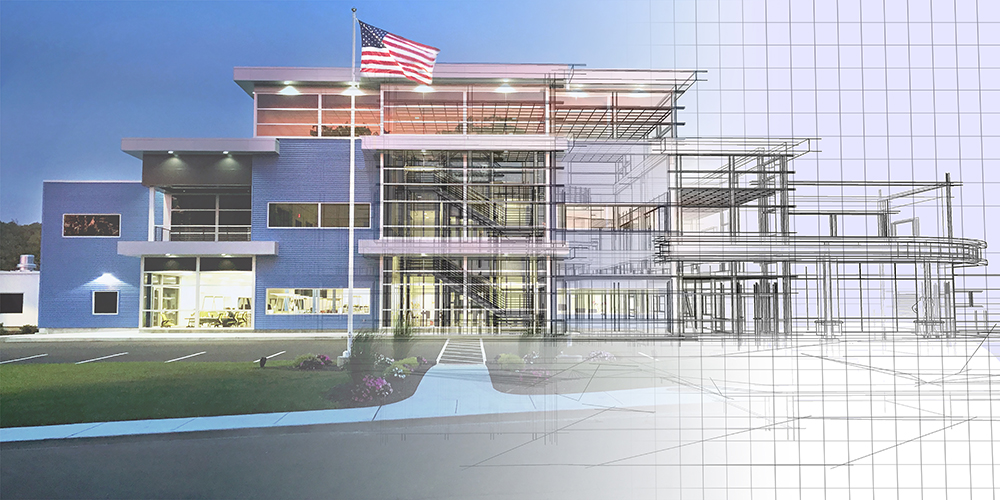 Seymour, CT Claris Construction, a design build firm in Newtown, has completed a 73,000 s/f building for Basements Systems Inc. Claris provided full architectural, engineering, and construction management services for the new mixed-use building that include distribution, offices, commercial kitchen, meeting rooms, and an auditorium. The construction of the new building cost between $10 and $15 million.
Claris, a Butler Dealer, was able to provide the solution to a unique building program. The structure, located at 33 Progress Ave., is a hybrid of conventional and pre-engineered (Butler) steel.
"When Larry (Janesky) showed me the sketch of what he dreamed of, I knew a hybrid Butler building was the answer," said Phil Clark, AIA, president and CEO of Claris.
Basement Systems considers the building the culmination of their world headquarters and completes the master plan Janesky conceptualized over 15 years ago. At the center of the building is the auditorium where franchisees come from around the world to learn about new products and talk about best business practices. There are visible lines of sight into the three wings of the building where trucks for distribution and storage of goods can be seen. This allows the office personnel to keep an eye on day to day operations and activities, while showcasing to franchisees how the flagship business is run.
This building marks the end of a 15-year master plan. In 2003, Janesky's business was booming and needed to expand. It was at this time that the relationship between Claris Construction and Basement Systems was born. Over the years Claris Construction has completed six design build projects totaling over 250,000 s/f.
The building is not only the headquarters for Basement Systems, it's a community space as well. Janesky has and will continue to allow the use of the auditorium and kitchen for community events.