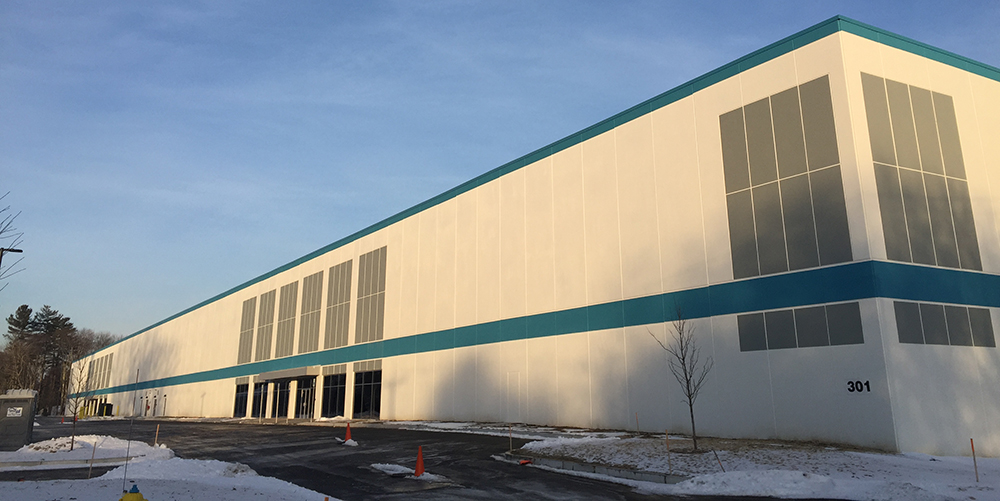 Northborough, MA Colliers International Boston's Southwest team has been directly involved in leasing efforts and witnessed first-hand the competitiveness of the incredibly tight high bay industrial market in greater Boston. Just months following the ground-breaking of 301 Bartlett St., a 220,000 s/f, 32-foot clear warehouse building, the team has already represented Maintenance Supply Headquarters in leasing 98,483 s/f as well as represented ownership in a subsequent lease to Metrie for another 58,123 s/f.
According to Colliers International vice president Kevin Brawley, "Maintenance Supply Headquarters was uber focused on Massachusetts for its first New England location but any option sub 32-foot clear did not make the cut. 301 Bartlett made all the sense in the world for them – new market, new building, right fit."
301 Bartlett St. offers highway access and has connections to I-495, the Mass. Turnpike (I-90), I-290, Rte. 20 and Rte. 9. For local tenant, Metrie, who was outgrowing its space at 425 Whitney St., remaining in the existing neighborhood was important, as well clear height and quantity of loading docks and drive-in doors.
"301 Bartlett really fit the bill for Metrie," said Colliers senior vice president Stephen Woelfel, Jr. "It accommodates their need for 13,000 s/f of expansion over their current footprint, all in brand new, never before occupied space."
In addition to Brawley and Woelfel, vice president PJ Foster, senior vice president Caleb Hudak, and executive vice presidents Greg Klemmer and Cathy Minnerly all played integral roles in the 301 Bartlett leases.