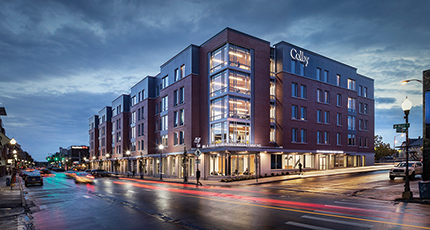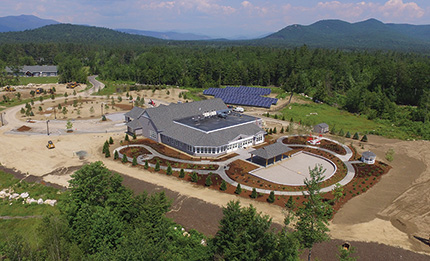 Establishing A Company During Uncertain Times
In July of 2010, construction veterans Denis Landry and Kevin French joined forces to establish Landry/French Construction. Just barely out of the Great Recession, many in the industry were skeptical about the two starting a business during uncertain times, especially given the lagging economic recovery in the construction market. Despite the naysayers and continued weakness in the economy, Denis and Kevin felt it was an opportune time to leverage their experience and the relationships they had built over their careers. After just six months in business, the company finished their first year with revenues of $5 million.
Today
Fast forward to 2019, Landry/French Construction is one of the region's leading commercial construction managers with offices in both Maine and New Hampshire. During the company's nine years in business, a lot has changed. The company has grown from nine employees in its first year to over 50 employees today. Even more impressive is the company's growth -— over 1,200% since its beginning. Today, with a solid reputation and a diverse portfolio of projects, Landry/French Construction is competing for projects with some of the region's top contractors.
Success Built on Relationships
Landry/French deeply values its clients and recognizes that the company's success is attributed to long-term relationships. Many of their early clients, including Bangor Savings Bank, Allagash Brewing Company, Boulos Asset Management, and cPort Credit Union are still clients today.
With the company's growth over the years, Landry/French has significantly expanded its services and client base with offices in both Maine and New Hampshire. Their deep portfolio now includes healthcare, education, corporate/commercial, housing, municipal and manufacturing projects, and a broad range of project sizes and complexities.

Large AND Small Construction Projects
While Landry/French's portfolio includes several larger-scale construction projects, the company hasn't lost sight of where it all started for the company—small construction projects, tenant fit-ups, and additions and renovations. As a relationship-based construction manager, Landry/French prides itself on meeting the needs of its clients no matter the size of their projects. It's how the company started and how it's built its success over the years. Landry/French remains committed to being a full-service construction manager no matter the size of the project.
Unparalleled Preconstruction Depth
Landry/French has developed a strong reputation for its preconstruction services, and has one of the largest planning, preconstruction, and estimating teams in Northern New England. The five-person team has over 130 years of combined experience with expertise in all trade disciplines, including deep knowledge of market conditions and established relationships with subcontractors.
Currently, the preconstruction department is planning and estimating projects over $100 million.
ESOP
In 2016, the company transitioned to a 100% employee-owned company (ESOP). Since the transition, Landry/French has experienced first-hand the many benefits of an employee ownership culture. Employees feel empowered to make decisions. They feel a greater sense of pride and responsibility in their daily work. The ESOP has provided a competitive advantage for Landry/French in recruiting and retaining top performers. It's a win-win for the company, its employees, and clients.
Awards and Recognition
While Landry/French measures its success by the number of satisfied and repeat clients, the company feels privileged to have received numerous awards and accolades from their peers, industry organizations and others in their nine years in business. Most notable awards include the Inc 5000 List of the Fastest Growing Companies in the Country for two consecutive years; three AGC Build Maine Awards; the Governor's Award for Business Excellence; and Best Places to Work in Maine for four consecutive years.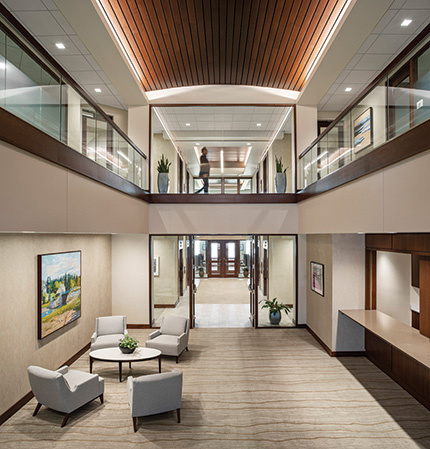 Broad Experience and Notable Projects
In just nine years, Landry/French has developed a diverse portfolio of work from small tenant fit-ups to large-scale new construction and complex, multi-phase renovation projects. Our broad range of experience includes assisted living and memory care facilities, medical offices, student and multifamily housing, public safety facilities, corporate offices, hotels, and financial institutions
A few notable projects include:
• Colby College, Bill & Joan Alfond Main St. Commons, Waterville, ME: 100,000 s/f, award-winning, 200-student housing complex with retail space on first floor. Recipient of four awards.
• State of Maine offices, Augusta, ME – Two new office buildings constructed simultaneously on the former MDOT site—one 104,000 s/f building for Department of Health and Human Services and a 26,000 s/f office building for the Maine Public Employees Retirement System (MPERS).
• Mount Washington Valley Adult Day Center, North Conway, NH – New 14,000 s/f adult day center for guests with memory loss or other cognitive or physical impairments.
• Bangor Savings Bank, Portsmouth and Concord, NH – New branch locations.
• Cross Insurance, offices, Portsmouth, N.H.
• Harvey Performance Company, Gorham, ME – New 79,000 s/f manufacturing facility for Massachusetts-based precision tool-making company.
• Verrill Dana, Offices, Portland, ME – A 10-phase, 64,000 s/f renovation completed over 20 months.
The company has experienced incredible growth over the last nine years. With some of the industry's top talent, great leadership and a strong company culture, Landry/French is poised for even greater success over the next decade.
Kevin French is the executive vice president of Landry/French Construction, Scarborough, ME and Portsmouth, NH.