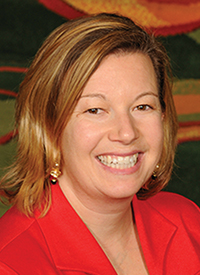 Courtney Hendricson, CERC
CREW CT is proud to support the 2017 Women Who Build Leadership and Networking Summit hosted by the Construction Institute. The topics and values that comprise this event are the same as those we foster in CREW CT: advancement of women in the commercial real estate industry, skill-building, leadership, networking, and of course women who build. In CREW CT, our members are building every day: physical, tangible projects and some not so visible: we build connections, we build bridges, we build communities, we build each other up, and we build off successes that came before us.
Speaking of those that came before us, CREW CT is celebrating our 30th year this year, and we are celebrating our founding members and the legacy they leave throughout everything we do. In honoring their legacy, it doesn't get better than our incoming board with the following stellar credentials: public, private, and not-for-profit sectors represented; veteran members and brand new CREW members represented; several millennials sprinkled among Gen Xers and Baby Boomers; practically every discipline within commercial real estate represented – from buying and selling the buildings to cleaning and designing the buildings' interiors to running the numbers, developing the deals, ensuring our municipalities have the right mix of commercial and residential building stock, and on and on…
CREW CT is working on some stand-out events this year focused around our status as the "go-to" organization for advancing women in our field. Keep your eyes out for our tried and true programs like Blue Ribbon Awards and State of the State and some new themes, like mentoring and strategy. We always place emphasis on networking and how our members and prospects can use our local and worldwide CREW network to further their career aspirations and their organization's goals.  Meeting people face-to-face has been one of CREW CT's differentiators over the past three decades.
PS: We always welcome men into our chapter (and even have men on our board!), and we welcome non-members to most of our events to meet us and learn more about CREW CT. Our membership is rich in experience and breadth, and we welcome you to our ranks.
I am so excited to be leading this organization of smart, dedicated commercial real estate professionals committed to advancing women in our profession. I encourage you to join us this year to learn something new, meet someone you've been meaning to, and give back to your industry. I look forward to seeing you at the Women Who Build Summit as we celebrate the great work of the Construction Institute and us women…who build.
Courtney Hendricson vice president of municipal services for Connecticut Economic Resource Center, Rocky Hill, CT