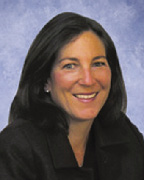 Julia Anne Slom is senior vice president/commercial real estate group, team leader with The Washington Trust Co., Westerly, RI
What is your most memorable career experience from the past decade (2000-2009)?
Not sure if ok to answer this on a personal level but for me it was forming the commercial real estate team at Washington Trust Co. in 2002 which launched in 2003. Until then all of the commercial lenders here were generalists. I believed that there was opportunity for our bank to grow both within and outside RI by expanding our lending to commercial real estate clients with a targeted commercial real estate lending function. We now lend throughout New England with a focus on Conn., RI and Mass. and our portfolio has grown from zero to $400 million. Originally a team of one we now have a team of 6 very knowledgeable and experienced commercial real estate lenders! Seeing my vision come to fruition has been very exciting!
What major event(s) do you predict for the commercial real estate industry this decade (2010-2019)?
I hope (and believe) that common sense will be the major event to hit the commercial real estate industry this time around. I predict that it will and, while I say it jokingly, I do mean it quite seriously. The pain that our industry is suffering from is of course driven by the global economic conditions. It has been exacerbated by too much leverage and lenient lending terms and not based on the underpinnings of common sense. If we go back to the fundamentals of understanding tenancy, industry and other basic economic fundamentals and then over lay moderate debt and real equity onto a project, I believe that even during troubled times a project will weather the cycles.